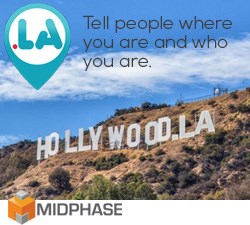 I liked that the .LA domain could express that and invite people to know something about me.
Salt Lake City, Utah (PRWEB) February 14, 2014
Los Angeles has never shied away from new things; think SoulCycle and the Raw Food Movement. This year, with the help of Midphase, the city will experience a real revolution with the launch of the .LA domain name; and the city can embark on a total Web address rebranding.
As a domain name, .LA acts as a virtual GPS. It's an instant indicator that the content of a website has a link to Los Angeles. It's for this reason, too, that it makes businesses and people easier to find than .US.
"The sale of .LA domain names marks a huge change for the Internet," said Sara Cunha-Rego, the director of hosting and domain products at Midphase. "This marks the start of a new wave of online rebranding."
Hundreds of people and businesses from all around The City of Angels have already ditched their .COM domain names in favor of the more localized .LA address. Interior designers, actors, boutiques and the music artist Matt Goss, of former Bros band fame, have already registered their .LA Web addresses.
".LA has already proven to be really popular," said Cunha-Rego. "Thousands of addresses have already been sold."
Charissa Santos is the new owner of CharissaSantos.LA. She uses her site to publicize her stylish graphic design business.
"I'm an L.A. native and continue to think L.A. is a great city to be rooted in," said Santos. "I liked that the .LA domain could express that and invite people to know something about me.
"I think my .LA address will be good for business, because I think the people I'd ideally like to work with see L.A. as a wildly creative place. The mix of culture and people certainly expand the way I see things. It's also great that the address is so easy to remember and unique."
In addition to the new .LA domain, Midphase has been the cause of recent buzz surrounding the launch of more domain names supporting specific industries and organizations. Last week marked general availability for .bike, .ventures, .guru and several more. This week, photographers got a tip of the hat with .camera, .photography, .lighting and more going live.
The registration process for domain names is fast, simple, and restriction-free. To get started, those interested can simply visit http://www.midphase.com/domain-registration, type the domain name they want to register into the domain name finder—for example bestactor.LA—and they'll be given the option to snap it up; if it's not already been taken.
ABOUT MIDPHASE
Since 2003, Midphase has provided budget, shared, advanced and other types of Web hosting services to a wide variety of customers ranging from individuals to small businesses. Midphase is a subsidiary of the UK2 Group, a significant player in the European and U.S. Web hosting markets, providing domain registration and affordable website hosting to customers globally. Utilizing state of the art data centers, Midphase is able to provide advanced security and high availability to customers at an affordable price. Midphase is committed to providing reliable, cutting-edge products and services at a great value, underpinned with superior client support. For more information about Midphase, visit http://www.midphase.com.