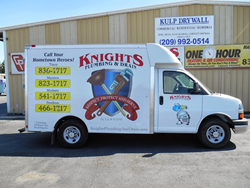 If you have a leaky water heater or you see rust on the exterior of the water heater you may need to consider having an experienced Modesto plumber take a look as soon as possible
Modesto, CA (PRWEB) May 29, 2015
Modesto plumbing repair is now available with a new coupon. Knights Plumbing and Drain with locations throughout the Central Valley including Modesto is now offering $50 off a new water heater. The new offer expires on 09/01/2015 and has some restrictions. The new discount coupon also can be applied toward a new water heater installation where there isn't one now. All of the Modesto plumbing repair work done by Knights comes with a guarantee.
"If you have a leaky water heater or you see rust on the exterior of the water heater you may need to consider having an experienced Modesto plumber take a look as soon as possible. If you wait too long the water heater could have a massive failure and even cause a flood," says Les of Knights Plumbing and Drain in Modesto. According to Les other symptoms of a failing water heater include insufficient hot water, water that takes a long time to heat and reduced water pressure as a result of rusted supply lines, which actually rust from the inside out.
"If you have galvanized pipe supplying water to the water heater and they are rusted this could be a sign of a more serious problem. Galvanized water pipes last about 25 to 30 years in most cases and they rust from the inside out. This means by the time leaks, usually in the form of pin hole leaks, are visible the pipe could be completely compromised," says Les. Knights Plumbing and Drain provides honest evaluations when they evaluate any water heater replacement or any type of plumbing repair in Modesto.
Modesto plumbers at Knights have built a solid reputation over the years serving customers in Modesto and surrounding cities. They have locations in Tracy, Manteca, Stockton, Modesto and Oakdale and they service many more cities. Their radio dispatched plumbers can get to most customers very quickly and they accurately communicate with their customers. "We provide an accurate time of when our plumber will be onsite so our customers don't have to waste a lot of time waiting for the plumber. We also back our work with a guarantee so our customers can have peace of mind about hiring us."
Plumbers in Modesto should be hired carefully. Homeowners should do their due diligence according to Les. "We have many positive plumbing repair and installation reviews online from people who were happy with our customer. A lot of people have been burned by a service company at some point. We work tirelessly to make sure that our customers are getting what they pay for." Modesto plumber reviews of Knights Plumbing and Drain can be seen on Yelp. They also have many positive online reviews on Google Places and Review Buzz.
"We want our potential customers to know that, "At Knights Plumbing we treat you like royalty," says Les. To learn more about Knights Plumbing and Drain please visit their website. To take advantage of the new water heater replacement or installation coupon or to learn about any restrictions please give them a call at (209) 541-1717. They offer 24 hour emergency plumbing repair 365 days a year. Call (209) 541-1717 to schedule a visit from one of their experienced Modesto plumbers.
Knights Plumbing and Drain
426 14th St
#213
Modesto, CA 95354
(209) 541-1717
knightsplumbinganddrain.com