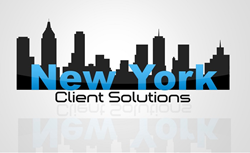 In many cases our clients provide product training to ensure we understand their brands.
New York, NY (PRWEB) March 17, 2014
In today's struggling economic climate, business economists have been reviewing the value of hiring an outside marketing agency, and have concluded they are not financially beneficial for businesses. NYCS is an outsourced sales and marketing firm who heavily rely on businesses, throughout New York, to hire them for their marketing services.
Following research which has triggered negative reviews of outsourcing, and belittles the value of marketing agencies, it has provoked NYCS to defend the significance of outsourced marketing agencies.
The article of concern for NYCS, titled 'The Limits to Outsourcing: Beware of the Consequences for Market Success!' was published on The World Financial Review on 15th January 2014. The article was collaboratively written by university professors, Massaki Kotabe, Michael J. Mol, Janet Y. Murray and Ronaldo Parente. The four professors claim that, although outsourcing has its benefits like lowering the firm's breakeven point and improve its return on investment, in the long term outsourcing can diminish market performance. The professors' state that, "increased outsourcing leads to an increase in transaction and bureaucratic costs to a point where these start to exceed production cost gains."
Colin Moore, managing director of NYCS claims that outsourcing marketing agencies doesn't need to be costly. Despite the negative reviews by many that agencies are disconnected from brand's core values, NYCS point out the guaranteed higher return on investment their company offers clients. The firm offer a policy where their clients only pay for the results NYCS produce, making them excellent value for money. Colin Moore says, "In many cases our clients provide product training to ensure we understand their brands. We then represent those clients through direct forms of marketing and actually guarantee results – something our clients love about our outsourced marketing services."
NYCS believes that outsourcing an agency for marketing can indeed be a very smart decision for businesses. Colin Moore suggests that it's all about doing the right research. NYCS defend the benefits marketing agencies can offer businesses, claiming that it brings more experienced people and more focused campaigns, which leads to high sales conversion rates.
NYCS urge businesses not to believe the negative reviews about outsourcing a marketing agency. The firm is a leading example of why outsourced marketing companies can be extremely beneficial, and NYCS boasts an excellent track record for their services. NYCS in Manhattan is a solution for businesses looking to boost their weekly sales targets and build their customer base. The firm will continue to defend the quality and efficient services outsourced marketing agencies can offer, despite its negative reviews.