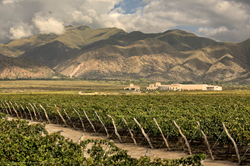 Every country has problems, but when you know you have people working hard, who are committed to quality and the right combination of things, I am optimistic in our future because this is where the real country is at.
Mendoza, Argentina (PRWEB) August 01, 2014
As Argentina faces recent economic concerns in light of the national bond default Wednesday, Piattelli Vineyards, the dual-location family-owned winemaking properties in Mendoza and Salta, Argentina, is celebrating more than five years of year-over-year exponential growth, with even more channels of business expected to open in the near future.
The business success is a sign that at its core, the people of Argentina are continuing to work towards a brighter economic future.
"Every country has problems and obviously, our current financial problems may hurt. However, when you know you have the best conditions for winemaking, a wonderful group of passionate people working hard, who are committed to quality, and the right combination of things, I can say that I am very optimistic in our future because this is where the real country is at," said Piattelli Vineyards Director Gabriel Fidel. "Beyond a particular day or a special issue, the real Argentina, our people, our wines, continue the path of success and hard work."
"Good things deserve recognition, and the wines of Piattelli are a shining example of how quality products made by dedicated people are gaining a fan base both in Argentina as well as an increasing number of countries around the world," Fidel said.
Since at least 2009 Piattelli Vineyards has risen on a steep growth trajectory, expanding on its original Mendoza winery with a second, multimillion-dollar state-of-the-art winery and enotourism facility in Cafayate, Salta in 2012—arguably the most important investment in Argentina's wine industry in recent years. Wine production is on target to grow from about 21,000 cases in 2009 to over 100,000 cases in 2015.
Receiving recognition, awards and multiple 90-plus point ratings from such prestigious organizations as Wine Spectator, Wine Enthusiast, Robert Parker, Argentina Wine Awards, Guía Descorchados and many others, Piattelli is becoming an important player in Argentina's wine industry. Another indicator of Piattelli's success, the brand's dual-language social media channels have gained thousands of new followers within the past six months.
"Due to our great quality-price relationship, Piattelli is probably today one of the most booming wineries in Argentina," Fidel said. "If I had to measure how Argentina is doing by Piattelli, then I would say everything is going great."
Gaining new ground at home in Argentina, Piattelli wines are now distributed in every region and major city in the country, including Patagonia, Buenos Aires, Córdoba, Rosario, Bariloche, Mendoza, Salta and others. Additionally, Piattelli is expanding its South American distribution in Brazil—including such cities as Sao Paulo, Río de Janeiro and Brasillia—and Mexico—including Guadalajara, Monterey, Cancun, Puerto Vallarta and others. And in the United States, Piattelli is experiencing significant growth through its recent expansion into nearly all 50 states. Negotiations are also nearing completion for Piattelli to enter at least five new international markets in coming months.
"Our secret is that we are strongly customer-oriented," Fidel said. "We are driven to deliver great wines at a fair price, and people come back to buy because of that."
About Piattelli Vineyards:
Piattelli's vineyards cover 477 acres in Cafayate, Salta (elev. 5,577 feet) and 121 acres in Luján de Cuyo, Mendoza (elev. 3,300 feet). Piattelli currently produces Malbec, Cabernet Sauvignon, Chardonnay, Torrontés, Rosé, and an exquisite blend of Malbec, Cabernet, and Merlot grapes called Trinità. The Premium Reserve wines fall between $10 and $20, and the Grand Reserve level ranges $20 to $30. Piattelli Vineyards has received many top ratings from such well-known publications as the Wine Advocate, Wine Enthusiast, Wine Spectator and Stephen Tanzer's International Wine Cellar and is distributed in Minnesota by Vinocopia Inc and brokered nationally through Casa Vinicola Zonin USA.