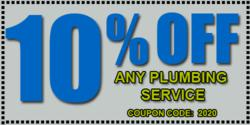 When Uncle Bob comes over for Thanksgiving Dinner and clogs the toilet homeowners end up needing to call a plumber. We want people to have access to a plumbing coupon
San Jose, California (PRWEB) November 27, 2014
Thanksgiving is a busy weekend for plumbers in San Jose. Triple A Plumbing is now offering a new drain cleaning discount so that homeowners can get a deal. The new special is for 10% off any type of drain or sewer related service and the offer expires on 01/16/2015. "When Uncle Bob comes over for Thanksgiving Dinner and clogs the toilet homeowners end up needing to call a plumber. We want people to have access to a plumbing coupon," says Adam of Triple A Plumbing.
The day after Thanksgiving is the busiest day of the year according to Adam, "We get a ton of calls for drain cleaning during the Thanksgiving weekend but the busiest day is Friday." They provide plumbing repair in San Jose 24 hours a day and 7 days a week. "We provide service when people need it. We understand that plumbing and drain problems seem to happen at the most inopportune times." Adam and his team of highly trained drain cleaning and sewer repair plumbers offer a no cost, no obligation estimate in Santa Clara County even on holidays, nights and weekends.
In addition to the Thanksgiving plumbing special Triple A is also offering 10% off water heater repair and replacement, hydro-jetting, sewer pipe replacement, re-piping and any other plumbing service. "We are growing our business and we want to save people money off plumbing repair in Santa Clara County. There is no job we can't handle and we have the most advanced technology at our disposal," says Adam. Triple A Plumbing offers a fast response time to their customers in addition to money saving coupons.
San Jose plumbers should be hired carefully. It is important to make sure that the person hired is licensed according to Adam. He says there are many unlicensed handymen who claim to have experience but can't get the job done. "We get calls all of the time where a maintenance guy, friend or handyman has attempted a repair and the problem was ultimately made worse. Plumbers need to be licensed for a reason. It is so they can complete repairs without exposing homeowners to further liability," says Adam.
To learn more about the plumbers in San Jose at Triple A Plumbing please visit their website. To take advantage of the Thanksgiving weekend drain cleaning and plumbing coupons please call (408) 361-8102. People are also encouraged to read their plumbing and drain reviews on Google, Angie's List and Yelp.
Triple A Plumbing
San Jose, CA
(408) 361-8102