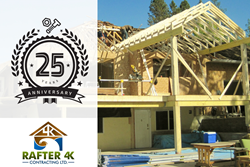 We are very proud of our reputation as 'Honest Dependable Service Specialists' in Kelowna.
(PRWEB) December 13, 2016
Rafter 4K Contracting Ltd., the leading provider of Kelowna home renovations and construction management services, is celebrating 25 years of business this month. A family company, Rafter 4K was established in 1991 by Norm and Sandi Kneller with a vision to provide the Kelowna area with quality, dependable swimming pool building services, home renovations, and home additions. Over the years the company has undergone steady growth and they have made that vision a reality, quickly building an exceptional reputation which has been recognized through numerous industry awards celebrating pool design and construction, marketing, growth and customer service. Rafter 4K appreciates Kelowna and contributes with community support whenever possible, supporting various organizations over the years including; Kelowna Food Bank, KGH Foundation, SPCA, Central Okanagan Hospice Association, artVest, along with many more educational and minor sports associations.
Specialists in kitchen renovations, bathroom renovations, additions and Kelowna swimming pools, Rafter 4K maintains a commitment to sustainability in their construction techniques. An eco-friendly company, Rafter 4K endeavours to reduce the impact of construction on the surrounding environment, recycling and reusing products as frequently as possible. Rafter 4K is also renowned for their professionalism and integrity in Kelowna construction project management services, striving to ensure customers' satisfaction in managing time, quality and budget constraints throughout the renovation and building process.
"We have dedicated our company to serving our customers and providing the highest quality workmanship and dependability," said Rafter 4K founder Norm Kneller. "We fully understand that undertaking a home renovation or home addition is a stressful venture, and we are very pleased to be able to provide our customers with high quality results while managing the process every step of the way. Our goal is always to ensure the comfort of our clients while turning their home renovation dreams into reality. We are very proud of our reputation as 'Honest Dependable Service Specialists' in Kelowna."
Having relocated to Kelowna from the Edmonton area in 1990 to begin their family, the Knellers started their business by building on their experience as swimming pool contractors to expand into the complete spectrum of renovation and construction services the company offers today. Along with celebrating 25 years in business, 2016 marks a milestone for the company as they moved beyond renovations to design, and built their first custom house this year. "2016 has been an exciting year for Rafter 4K with our first complete custom house build, and we look forward to continuing to provide high-integrity, high-quality services to our valued Kelowna customers for many years to come," said Kneller.
About Rafter 4K
With 25 years of general contracting experience, Rafter 4K Contracting is the Kelowna construction company of choice for residential and commercial projects. From home renovations to installing pools in Kelowna to project management for commercial construction, we ensure client satisfaction by delivering projects on time and on budget, while remaining focused on quality craftsmanship. Rafter 4K is highly experienced with bathroom renovations, kitchen renovations, Kelowna pool installations, and home additions. For more information, visit http://www.rafter4k.com.
For more information, please contact:
Rafter 4K Contracting Ltd.
Norm Kneller, Owner
250-765-0856
info(at)rafter4k(dot)com