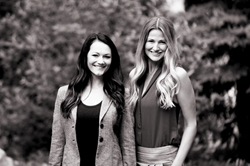 We want to make the buying and selling of real estate as effective and stress-free as possible while serving you with the highest level of professionalism and loyalty.
Edmonton, AB (PRWEB) May 30, 2014
Sara Jessie Real Estate Services, an agency providing real estate services in Edmonton, Alberta, has successfully assisted in selling more than thirty percent of available condos, penthouses, and townhouses at the property Symphony Tower in Edmonton.
Sara Jessie was established by Jessie McCraken and Sara Jones because they wanted to "make the buying and selling of real estate as effective and stress-free as possible while serving you with the highest level of professionalism and loyalty." They are committed to providing information and sharing their expertise to meet the real estate needs of every client. Their client's goals and experience come first in every property transaction.
The professional expertise of their real estate services in Edmonton comes from years of experience working with developers and keeping up-to-date on the local market trends. Sara and Jessie strive to be effective through unique techniques, and will maneuver a successful seller/buyer contract.
Sara Jessie Real Estate Services use valuable real estate methods and tools to garner strong interest in available properties. They say that, "If you are selling your home, [they] have a comprehensive 10 step custom marketing formula for all… sellers." They have a formula, but they use it as the foundation to customize each property campaign to maximize exposure and achieve the fast sale you and your home deserve. When these ten elements are used for real estate services in the Edmonton market the combination creates a blueprint for success.
Their tools include complimentary home staging to arrange and showcase the best features of a home. These prominent features are the ones that will connect a buyer to the home. They also use professional photography to highlight the best angle that will exhibit the attributes of a property. The marketing packages and outline sheets are in full color, which will show the superior value of a location. Having high quality sheets also encourages a lasting positive memory of the property for prospective buyers to take home and review.
Sara Jessie also takes full advantage of digital marketing. They compose custom online profiles to post to MLS. These profiles are a key component to entice searching homebuyers through the front door and into a home to explore. Their website is a place where custom posts are shared to tell the tale of your home. Stories about your property will charm the perfect buyer by detailing the superior qualities. Social media posts on their network and the use of custom 'come on in' videos is another way to instill interest.
On the day of a house showing, Sara Jessie will provide a professional real estate agent to be on stand-by when required. These agents will lead a detailed tour to the potential buyer, so that no admirable detail is overlooked. They can also organize a public open house and/or open house for brokers to help advertise the exciting new property for sale. Open houses are a great method to spread the word about the features and tremendous value of a home. Neighborhood advertising and signage can also be useful when properly located to maximize exposure to foot traffic and those just driving by.
The community of real estate services in Edmonton has many players, like property managers, inspectors, appraiser, contractors, bankers, mortgage loan officers, and government agencies, and of course prospective buyers and sellers. Sara Jessie makes themselves available to clients anytime they have questions, concerns, or need to deliberate about the real estate process. In today's real estate environment, a unified approach to marketing properties is key to a successful sale or purchase; and Sara Jessie Real Estate Services want to fulfill their client's real estate goals by using their expertise in the industry.
Related News:

Related Search Phrases:
[Real Estate Edmonton] [Edmonton Real Estate News] [Breaking News] [Symphony Tower Edmonton] [Real Estate Agents] [Real Estate Services] [Sara Jones] [Jessie McCracken]
Related Hashtags:
#RealEstate #BreakingNews #Edmonton #Realtor #Home #HomeBuyers #HomeSellers #SJTV
###
Clients can reach Sara Jessie Real Estate Services via their website at http://sarajessie.ca; email them at Info(at)SaraJessie(dot)ca; come visit them at their location at 2852 Calgary Trail N.W. Edmonton, AB T6J 6V7 Canada; or by telephone at (780) 457-5657 or (780) 432-6513.