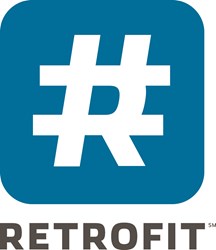 The ability to connect with highly-trained experts online is changing the weight loss landscape.
-- Retrofit CEO Jeff Hyman
Chicago, Ill. (PRWEB) August 21, 2013
Retrofit, the high-tech weight loss program for busy professionals, announced today that it has made its award-winning product more accessible with the introduction of the Retrofit Advisor product. Amidst recent reports that Internet-based programs are poised to rival traditional weight loss programs, Retrofit is proving not only that its online program delivers remarkable outcomes, but also that it is cost-effective. This groundbreaking new product delivers personalized weight loss to both individual and corporate clients.
The newly-released Retrofit Weight Loss Advisor Program delivers Private Lessons for high-tech weight loss for just $98 a month for a limited time. Retrofit includes use of the latest in popular digital technology (Fitbit wireless activity tracker and wi-fi scale) combined with private videoconference coaching from a personal Weight Loss Advisor trained in behavior change, nutrition, and fitness. This one-of-a-kind program is modeled after Retrofit's award-winning Expert 10% and Expert 15% weight loss programs. More than 90% of Retrofit clients are successfully losing weight.
"Working with a Weight Loss Advisor provides the human touch that simply cannot be replicated with technology," said Retrofit Advisory Board Member Robert Kushner, MD, MS, Clinical Director of Northwestern University's Comprehensive Center on Obesity in Chicago, Ill. "Retrofit fits in with today's fast-paced lifestyles and seamlessly brings digital health and mobile access to clients through its unique use of Skype videoconferencing for convenient support sessions with wellness experts."
Retrofit clients who completed a 12-month weight loss program lost an average of 19.1 pounds, or 8.3% of their starting body weight, according to recently published company reports.
"The ability to connect with highly-trained experts online is changing the weight loss landscape," said Retrofit CEO Jeff Hyman, who started the company after he and his wife returned from a destination wellness resort that focused on weight management. "People are simply too busy to travel to weight loss meetings and retreats. And free calorie-tracking apps fail to make sustained behavior changes for most people. Retrofit makes it possible to digitally deliver a completely private and personal program to clients via the Internet, at home, work, or on the road."
Retrofit was named one of the Top 50 "Best Health & Fitness Apps" of the year by TechCrunch.com and was recently called the "front-runner in harnessing wireless technology to help its busy clients lose weight" by Forbes.com.
"Retrofit helped make simple behavior changes easy," said client Rickey Glover, an attorney who lost 90 pounds on the Retrofit program. "Three years ago, when my scale read 340, I never allowed myself to dream that I could look down and see anything under 250, let alone 200. Everything is possible again."
For more information on RetrofitMe.com or to interview Dr. Robert Kushner or Retrofit CEO Jeff Hyman, please contact Jennifer Zeidler, Retrofit Director of PR & Social Media at
855 473-8763 x776.
About Retrofit
Retrofit the expert-led & data-driven weight loss program for busy professionals, is designed to deliver lasting results. Its innovative program uses high-tech weight loss strategies including wireless monitoring of a client's weight, activity and sleep, as well as Private Lessons with weight loss experts that can include a registered dietitian, exercise physiologist and behavior coach. Launched in 2011, Retrofit has raised over $10 million in venture capital funding. Retrofit can be found on the Web at RetrofitMe.com and by calling 855-4-RETROFIT. Follow the company on Facebook and Twitter at @retrofitme.