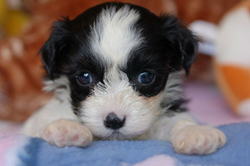 ...large dose[s] of medication can easily overwhelm a Havanese puppy's immune system, causing him/her to actually come down with the same diseases they were being vaccinated against.
Charlestown, RI (PRWEB) April 21, 2014
The entrance of a new puppy into a household can be a decidedly exciting and rewarding period in one's life. During this time, regular vet exams are a necessity, and can easily overwhelm a first-time puppy owner with the seemingly endless succession of vaccinations that accompany them. Vaccinating, if not done properly, can be fatal. Royal Flush Havanese gives readers the lowdown of how to better prepare for and manage this inevitable barrage of inoculations.
Upon arriving at the veterinarian, most first-time puppy owners will receive information regarding a typical timeline of when new puppy patients are inoculated. As discussed in the article Current Costs of First Year Havanese Puppy Ownership, the first vaccination typically occurs at the age of seven weeks, the second at 10 weeks, the third at 13 weeks, and the fourth at 16 weeks. Despite the ample literature veterinarians hand out, it is important to remember that a representative timeline is not always the correct timeline for each and every dog.
Royal Flush Havanese stresses the importance of only administering one vaccination at a time. All dogs, especially smaller breeds such as the Havanese, are susceptible to suffering from adverse effects from the vaccines. Recently, it has become more common to administer combination vaccines, which is simply a single shot composed of multiple vaccinations. This large dose of medication can easily overwhelm a Havanese puppy's immune system, causing him/her to actually come down with the same diseases they were being vaccinated against!
Royal Flush Havanese recommends following a strict sequence of vaccinations in order to combat this. At seven weeks, Havanese puppies should be given a five-way vaccination that does not include either lepto or corona. No other vaccine should be administered during this time, including Bordatella (which is commonly used with this vaccine). Additionally, when a Havanese puppy is to receive their Bordatella, Rabies, or Lyme vaccination, care should be taken that only one of these is given per vet visit.
After a puppy receives his or her first round of vaccinations, it is important to look out for signs of abnormal behavior, which can signal a failure of the puppy's immune system or an allergic reaction. Common symptoms to watch out for include heavy breathing, swelling of the face, frequent vomiting, lethargy, loss of appetite, watery/bloody/mucous stools, watery eyes, hives, and even seizures. These can occur up to 60 days after the dog receives their shots, and if left untreated, can lead to death. As detailed above, the risk a dog has of showing an adverse reaction dramatically proliferates as the number of shots received increases, and as the size of the dog decreases.
The single most important thing dog owners can do for their pet's health is to advocate on behalf of their pet. Unlike children, dogs cannot tell veterinarians how they are feeling. Dog owners know exactly what behavior is considered normal for their dog, which helps to make any changes in conduct much more simple to spot. As the saying goes, if you see something, say something. Ultimately, it is the owner's responsibility to decide when and where their pet will receive vaccinations. Knowing how long each vaccination is good for can prevent unnecessary vaccination. Choosing to administer vaccinations only when a dog is completely healthy, and choosing to administer only one vaccine at a time can greatly reduce the chance of a reaction as well.
Moreover, it is never a good idea to walk into a veterinarian's office completely unprepared. Dog owners should keep a journal monitoring their pet's appetite, activity level, and any significant changes to their daily routine for at least a week before the visit. If it is a first visit, it is extremely important to convey any and all information about the dog, such as any medications, known allergies, de-worming schedule, and any paperwork to the vet, so that they can make a more informed decision as to when and what the dog will be vaccinated against. Royal Flush Havanese stresses the importance of ensuring Havanese puppies are completely healthy– and their immune systems strong– before their vaccinations. It is necessary to keep a puppy eating, no matter how disinterested in food he/she may be. If the puppy isn't drinking as much as it should, add Pedialyte to his/her water bowl for added electrolytes. Immune boosting supplements like NuVet can also be added to the puppy's diet to help fight off any effects of the vaccines. Lastly, the risk of contracting hypoglycemia can be minimized by rubbing a pea-sized amount of Nutri-Cal onto a puppy's gums several times a day.
As a pet owner, if something instinctively doesn't feel right, question it. Any and all questions regarding vaccinations can always be run by another friend with a dog, the product manufacturer, another veterinarian, the dog's breeder or even the Internet. Royal Flush Havanese welcomes questions from the owners of their Havanese. Additionally, speaking to other clients of the veterinarian can help owners identify exactly how well their vet handles his/her patients on a case-by-case basis.
Royal Flush Havanese hopes that the information conveyed in this article will help to improve the lives of dogs and dog owners everywhere. Vaccinating, although important to the health of a puppy, can be extremely deleterious if not done correctly. Royal Flush Havanese is a BBB accredited business specializing in breeding and raising Havanese puppies born and raised in both Rhode Island and Florida. Please join us in our quest to teach others about the loyal, gentle and lovable Havanese breed. Like us on Facebook and check out our website and YouTube where you can find even more helpful articles and informative tips for dog-enthusiasts and breeders alike.