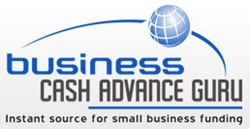 New Small Business Loan Solutions are Here and Ready, Thanks to Business Cash Advance Guru
Nationwide (PRWEB) May 30, 2014
Small business loan solutions have become scarce since the start of the Great Recession. However, years after its official end, unsecured business loan solutions still remain hard to find for small and medium sized companies. Some companies are turning to business credit card financing, an affordable and accessible option which allows businesses to get the cash they need. Companies need not ask where to get an unsecured business loan without a business plan if they go through an alternative lender, such as Business Cash Advance Guru.
The landscape of small business lending remains largely barren, and sources state working capital is badly needed, "The difficulty obtaining financing is leading to stagnation for small businesses in the survey. More than half of respondents (54 percent) say they do not plan to hire employees in 2014. Even those entrepreneurs who do obtain financing are more likely to use it simply to stay afloat, rather than to grow. Before the economic collapse, 32 percent say they used financing to grow their businesses; today, just 22 percent use it for that purpose. Instead, 40 percent of business owners are turning to financing just to pay the bills and keep their businesses going, up from 31 percent who used financing for this purpose pre-recession," Small Biz Daily reports.
As loan options remain scarce, businesses are looking for alternative sources of working capital. For a time, credit unions filled the void left by the large corporate banks, but that has ended as new financial regulations roll out at a steady pace. Traditional banks usually require a clean credit profile, along with substantial collateral and a personal guarantee. However, those are now just a few of the many qualifiers applied to small business loans.
"Business Cash Advance Guru makes obtaining financing approval as fast and as simple as completing a credit card application. The goal of providing access to business grade capital swiftly and easily to small businesses across the country is realized through the alternative lender's release of its proprietary commercial funding system."
Insurance Playing a Large Roll
With the enactment of the Affordable Care Act, banks are skeptical small companies will be able to repay business loans. Banks believe these new requirements will pose a significant financial burden on small businesses and are, therefore, unwilling to take the risk of lending too many companies.
Insurance is only one concern of many. As economic trends continue, with rising interest rates, as well as inflation, banks are betting that small companies will not be able to handle added burdens. That's why many small businesses are turning to alternative lending sources, finding easy, online application processes and 24 hour approvals. Funds arrive via direct deposit in three to five business days. Funds can be used for any purpose, and there are tax benefits to these bank loan alternatives.
Companies can qualify for $5,000 to $500,000, enjoy a simple and free application, and do not have to undergo a credit history review. Payments are based on a percentage of the loan amount rather than a fixed sum. This repayment scheduling makes loans affordable, especially during months with slow sale receipts. Approval is based on past and future projected credit card receivables and future bank deposits instead of credit scores, assets and liabilities. There is no red tape and money is made readily available.
BusinessCashAdvanceGuru.com expanded nationwide services are now available in the following geographical areas:
Alabama, Alaska, Arizona, Arkansas, California, Colorado, Connecticut, Delaware, District of Columbia, Florida, Georgia, Idaho, Illinois, Indiana, Iowa, Kansas, Kentucky, Louisiana, Maine, Maryland, Massachusetts, Michigan, Minnesota, Mississippi, Missouri, Montana, Nebraska, Nevada, New Hampshire, New Jersey, New Mexico, New York, North Carolina, North Dakota, Ohio, Oklahoma, Oregon, Pennsylvania, Rhode Island, South Carolina, South Dakota, Tennessee, Texas, Utah, Vermont, Virginia, Washington, Washington DC, West Virginia, Wisconsin, and Wyoming.
About Business Cash Advance Guru
http://www.BusinessCashAdvanceGuru.com is a division authorized by TieTechnology, LLC. Business Cash Advance Guru's merchant cash advance division specializes in helping small business owners realize their dreams. That's why we created our merchant cash advance program in 2003, and continue to be a merchant cash advance leader in the industry, offering the most flexible payment options and the lowest interest rates and in the business.
About TieTechnology, LLC
http://www.tietechnology.com specializes in small business service based solutions for businesses. Services provided by TieTechnology LLC, include: merchant credit card processing, business service telecommunications, and web based visibility marketing. The advantages of doing business with TieTechnology is their commitment to customer service excellence and their offering of one stop solutions to all business to business service product needs for the customers' convenience. To learn more about their wide assortment of business services and their specialized divisions, see the following links and descriptions.