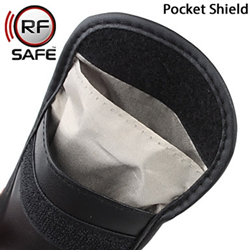 RF Safe's founder claims a simple pouch designed to block cell phone radiation can eliminate the possibility of being hacked through a phones WiFi connection.
New York, New York (PRWEB) April 03, 2014
According to RF Safe, cell phone users who want to prevent prying eyes from hacking smartphones through WiFi connectivity can either turn off WiFi or slip the phone into RF Safe's Universal Cell Phone Radiation Pocket Shield that sell for only $9.99 — available in black or pink.
On March 20, 2014, CNN aired a revealing news story about how safe information is stored on a smartphone: "This drone can steal what's on your phone" http://money.cnn.com/2014/03/20/technology/security/drone-phone/.
As reported, hackers have developed a drone that can steal the contents of your smartphone — from your location data to your passwords. The technology equipped on the flying drone, known as Snoopy, looks for mobile devices with Wi-Fi settings turned on.
As a part of its controversial surveillance programs, the U.S. National Security Agency already uses similar technology to tap into WiFi connections and control mobile devices. And even though Snoopy hasn't hit the market, phone-hacking drones could become a reality in the United States now that a federal judge Patrick Geraghty recently overturned the U.S. Federal Aviation Administration's commercial drone ban. March 6,2014; United States of America National Transportation Safety Board Docket -CP-217 http://www.kramerlevin.com/files/upload/PirkerDecision.pdf
Because the ban was lifted, filmmakers and tech companies such as Facebook and Amazon are now allowed to fly drones — so expect to see a lot more drones fly over head soon.
Essentially, Snoopy works on drones that seek out the signal that a smartphone broadcasts when it's looking for a WiFi network to join. The drone intercepts the signal and tricks the phone into thinking it's a trusted network, then Snoopy gains access to all kinds of data on the phone.
It's not just passwords. The researchers say that Snoopy can retrieve credit card numbers, location data, and usernames, too. They've successfully stolen Amazon, PayPal, and Yahoo credentials from random Londoners.
John Coates, RF Safe's founder, claims a simple pouch designed to block cell phone radiation can eliminate the possibility of being hacked through a phones WiFi connection.
When using the outer slot of an RF Safe Cell Phone Pocket Shield, it blocks microwave radiation from a cell phone by deflecting cell phone radiation, simply keeping the cell phone shielding between the cell phone and user creates a protective barrier that microwave radiation from cell phones can not penetrate.
Pocket shields come in pink or black, and work perfectly for men and women to shield phone radiation when the phone is near the body – for instance in a pocket or purse.
Coates said, "RF Safe offers the pocket shield in pink because women's health and cell phone radiation exposure is something that is very concerning. New studies say there is reason to suspect that cell phone radiation could be harming unborn babies."
Researchers at Yale studied the effects of cell phone radiation on the offspring of pregnant mice and determined exposure to could result in developmental disabilities including ADHD, their study says in the March 15 issue of Scientific Reports.
http://news.yale.edu/2012/03/15/cell-phone-use-pregnancy-may-cause-behavioral-disorders-offspring
The study is the first of its kind to link cell phone radiation to developmental disorders in offspring, according to author Dr. Hugh S. Taylor, chief of the Division of Reproductive Endocrinology and Infertility at Yale Medical School.
Coates says, "There are serious health implications for men as well - a cell phone carried in a pocket can drastically reduce sperm count and motility."
RF Safe mentions a lot of problems a universal pocket shield can solve when suggesting that if cellphone users don't already own an RF Safe universal pocket shield- there are lots of reasons to order one right now online from rfsafe.com
About Radio Frequency Safe – RFSAFE.COM
RF Safe is the world's premier provider of cell phone radiation protection accessories and informational data. Since 1998 RF (Radio Frequency) Safe has been dedicated to evolving the wireless industries safety standards, by engaging in the business of design, testing, manufacture, and sale of safety technologies to mitigate harmful effects of cell phone radiation.