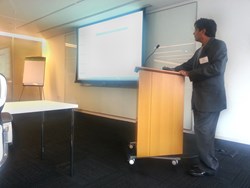 Of all the presentations at the Arena, many considered Rangam's to be the one that best addressed a real-world problem. A touch-screen apparatus for training brain development disorders such as autism is both practical and efficient
Somerset, New Jersey (PRWEB) October 31, 2013
In the 2013 Sustainability Summit held at the Wall Street headquarters of BNY Mellon on October 9, Rangam's subsidiary WebTeam Corporation presented its autism program iLearnNEarn2 that the company had launched in September. The highlights of the show at the Opportunity Arena were a 5-minute presentation, followed by a 10-minute Q & A session involving a panel of moderators and WebTeam CEO Nish Parikh, who shared his ideas about how to face one of the most challenging health conditions using a cost- and energy-efficient model of business.
"The representatives from investment funds, VC firms and Corporate America were quite impressed with Rangam Consultants' Opportunity Arena presentation during the 2013 Sustainability Summit. Of all the presentations at the Arena, many considered Rangam's to be the one that best addressed a real-world problem. A touch-screen apparatus for training brain development disorders such as autism is both practical and efficient. Value is already being delivered in the form of an innovative solution in a space that lacks technology and creativity. Further, the spectators felt that Nish was a capable presenter who delivered well organized information with self-assurance. Many lauded his great presentation skills and referenced his ability to respond clearly and conscientiously to follow-up questions. The high presentation grades they gave – in terms of clarity, information, and overall production – reflect these sentiments," Opportunity Arena Facilitator and Certification Compliance Specialist at The Council Edward Harrington noted while personally thanking the WebTeam CEO for setting the "bar very high for future summits".
"At The Council Summit, corporate members and small minority businesses recognized our efforts over the past few years. In my opinion, this kind of training and awareness event is extremely helpful for the environment and businesses such as ours," Parikh returned the gratitude.
Stating that the annual Sustainability Summit gives companies such as Rangam a unique opportunity to support their corporate social responsibility goals, president Hetal Parikh said, "The NY-NJ Council continues to promote and support minority business entrepreneurs in achieving their vision and goals by hosting such wonderful events and networking opportunities. It is through their dedication and passion that small-to-midsized businesses are able to keep moving forward and grow along with emerging technology and globalization."
"During our most recent annual supplier conference of one of large Fortune 500 companies, Rangam proudly received a service excellence award for being the top performing vendor for three consecutive years. Rangam has been making to the list of top 5 performing vendors for many years with all clients. We greatly appreciate our partner for recognizing our hard work, and efforts to provide the highest level of services. It is a source of great motivation to meet our CSR goals and contribute to the macroscopic interest of green business development," Hetal Parikh concluded.
About Rangam Consultants
Housed in the Garden State of New Jersey, Rangam Consultants Inc. is among the most robust and dynamic staffing enterprises in the United States. With a team of 230 professionals, Rangam has been catering to the temp staffing requirements of an elite league of Fortune 500 clients since 1995. Besides staffing, Rangam specializes in software development, web development, mobile application development, infrastructure management, technical documentation, network design and implementation, and voice over IP engineering.
About WebTeam Corporation
Rangam's subsidiary WebTeam Corporation has been working closely with industry experts, teachers, parents, therapists, and professionals to bring about a positive change in the lives of individuals with autism spectrum disorders. Since 2006, WebTeam has been developing apps for autism and other special education needs. The Colors Program for the kiosk and the iLearnNEarn program for smartphones and tablets help teachers, parents, and therapists deliver holistic and synchronized intervention to individuals with autism. Visit http://www.innovationforautism.com to learn more about WebTeam's recent activities.