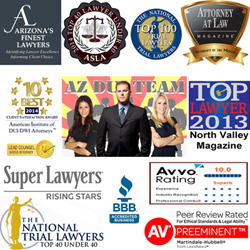 I am extremely proud of this award and I hope it helps potential clients understand that I am one of the best when it comes to defending my clients against DUI charges
Tempe, AZ (PRWEB) May 04, 2015
Tempe DUI defense lawyers at The DUI Team are pleased to announce that Founding Member, Brian Sloan, has been selected as a 2015 Top 100 Trial Lawyer by The National Trial Lawyers. This title is not exclusive to DUI defense, it includes all types of trial lawyers. There are very few attorneys in the country who focus specifically on DUI that made the list. That puts Attorney Brian Sloan in a very unique position as one of the leading trial lawyers for DUI defense in Phoenix, Tempe, Scottsdale, Mesa and surrounding areas.
Being selected as one of the Top DUI Lawyers in Tempe is a high honor according to Brian Sloan, Member of The DUI Team: "I am extremely proud of this award and I hope it helps potential clients understand that I am one of the best when it comes to defending my clients against DUI charges." The National Trial Lawyers: Top 100 is an invitation-only organization comprised of the top lawyers in each state. The selection process includes peer nominations and third-party research. Only the best trial lawyers in each state that demonstrate great leadership, stature, and reputation are selected for this recognition.
Brian Sloan has focused his practice on DUI defense in Tempe, Scottsdale, Phoenix, Mesa and surrounding areas for over 10 years. He has received numerous other awards over his time practicing DUI defense, including recognition form Super Lawyers, Martindale Hubbell, Avvo, The National College for DUI Defense and many others. He also contributed to an Amazon Best Seller where he writes about Driving Under the Influence. He has also been recognized by The American Association of Premier DUI Attorneys as well as Arizona's Finest Lawyers.
As an experienced Tempe DUI lawyer Brian Sloan of The DUI Team takes pride in his work. "We offer a complete and thorough DUI defense for our clients which includes an intelligent approach to the investigation." People who are accused of DUI in Tempe and surrounding areas can call The DUI Team and get a no cost consultation to learn how to defend their freedom. The DUI Team has successfully defended thousands of clients and they are aggressive when it comes to defending their clients.
The Scottsdale DUI lawyers at The DUI Team have recently launched a new website. There people can see the DUI Tips page that has been created to help answer some of the questions that come up when families are faced with DUI charges. There is also a page on the site where DUI myths are stated and debunked. People can also find attorney profiles on the site and they can see an example of all of the awards that Attorney Brain Sloan and The DUI Team have received and other capacities in which they have been recognized. There is also a form people can fill out to receive immediately.
To learn more about the Tempe and Scottsdale DUI Lawyers at The DUI Team please visit their website. People can also read their many positive online reviews from trusted consumer review sites like Google, Yelp and others. For immediate help with an arrest or related charges please call (480) 382-5562 now for a no cost consultation with an experienced DUI lawyer in Tempe.
The DUI Team
60 E Rio Salado Pkwy
#900d Tempe, AZ 85281
(480) 382-5562
theduiteam.com