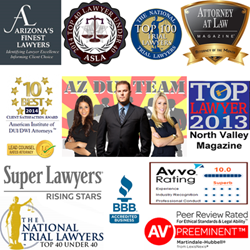 I've represented politicians, lawyers, police officers and your average nurse or teacher. It is not horribly uncommon for a person to get a DUI in Tempe
Tempe, AZ (PRWEB) April 23, 2015
Tempe DUI defense attorney, Brian D. Sloan, said getting a DUI is not the end of the world for anyone but his message, which he shared in the new book, "A Cup of Coffee With 10 of the Top DUI Attorneys in the United States," is to get help from the right attorney and get it quickly.
"All is not lost," Sloan said. "It is extremely important to get in touch with an attorney that knows what they're doing as soon as possible. There are things that need to be done to preserve someone's rights within the first two weeks of being arrested… Get to know what your rights are, what your options are, and how the system works. Don't put it on the back burner. Take action. Talk to an attorney." People can read his DUI Defense Tips on The DUI Team website.
Sloan has been a Tempe DUI defense attorney for about 10 years. It's the first position he was placed in at the first law firm he worked at and it's a subject he has dived deep into to understand fully. He's been on his own doing DUI defense for the last three years. He was asked to contribute to the book, with nine other well-known DUI attorneys, which has become a best seller on Amazon under several different categories in just a few months.
"The average person gets a DUI," Sloan said. "I've represented politicians, lawyers, police officers and your average nurse or teacher. It is not horribly uncommon for a person to get a DUI in Tempe. It doesn't make anyone a bad person. If anything, maybe they made a mistake. That being said, prosecutors don't tend to really concern themselves with who the person is. They're not going to let someone go because they are a police officer or a teacher. Prosecutors care about legal issues and factual issues. In nearly every instance, having a DUI is not going to destroy someone's life. It's not going to destroy someone's career. If a person doesn't learn their lesson, that's when problems start."
Sloan said he's seeing a lot of change in the world of Tempe DUI defense in recent years. About 10 percent of the clients he represents are in trouble for a medical DUI, which unfortunately in Arizona is recognized the same as an illegal drug DUI. The state is also having trouble with medical marijuana. Having a medical marijuana card is not a defense for DUI.
The diverse clients he's seen over the years have fueled his interest in DUI law, Sloan said. He believes it's important for every person who gets a DUI to get an attorney who focuses solely on DUI.
"It really is its own animal," he said. "It is a separate area of the law and a separate title under Arizona Revised Statutes. It has hundreds if not thousands of cases dealing solely with DUI defense and charges. I think I do my clients a disservice if I limited myself to even criminal law and DUI because DUI is so expansive. I've stuck with DUI defense so I can offer my clients a service in keeping up with the latest changes in DUI law and focusing solely on DUI."
"A Cup of Coffee With 10 of the top DUI Attorneys in the United States: Valuable Insights you Should Know if you are Charged With a DUI" is available online at amazon.com. For more information on Tempe DUI Attorneys or The DUI Team please visit their website.
The DUI Team
60 E Rio Salado Pkwy
#900d
Tempe, AZ 85281
(480) 382-5562