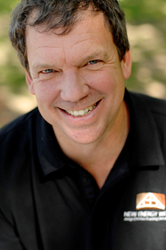 The Guild has been an inspiration and guide to both myself and our company for thirty years. In some ways, serving again on its board as President is about giving back.
Farmington, NY (PRWEB) January 05, 2016
Jonathan Orpin, founder and owner of New Energy Works Timberframers and Pioneer Millworks, was recently named President of the Timber Framers Guild. Orpin served on the Guild's Board of Directors as its president and in October 2015, acted as the Conference Chair/Creative Director for the 30th Annual Guild Conference in Idaho.
Orpin, a long-time thought leader in the timber frame industry, previously served on the Guild's board as treasurer in the early 1990s. He has been a member since the group's inception in 1985. As an organization, the Timber Framers Guild seeks to perpetuate and strengthen the robust craft of timber framing, communicating information about building methods, events, people, and the timber frame building community. They have almost one thousand members – and growing – across the nation.
"The Guild has been an inspiration and guide to both myself and our company for thirty years," said Orpin. "In some ways, serving again on its board as President is about giving back. In just as many ways, it is about growing both personally and professionally by working so closely with such a like-minded team."
The Timber Framers Guild recently merged with Timber Frame Business Council to create the most comprehensive collection of timber frame knowledge, made easily available through many avenues, including their newly re-built website, tfguild.org. Numerous community timber framing events sponsored by the Guild, such as this year's farmer's market raising in Portland, Michigan and last year's community market building in Pemberton, BC bring timber framing knowledge and experience directly into communities. The work of the Guild's Engineering Council, Historical Council, Business Council, and Apprenticeship Training Program also work to further extend the mission of the Guild to its members and the greater community.
In November, the Timber Framers Guild hosted their 30th Annual Conference in Coeur d'Alene, Idaho. The conference marked thirty years of skills development, building science, history, and shared leaning experiences from the best the industry has to offer. Speakers traveled from throughout the United States and Europe to share their knowledge and experience with attendees.
"There was a sense of focus and relevance with featured speakers, sharing of timber framing skills, and building science education – as well as the always enjoyed session of slides of timber frame work from around the country," explains Orpin, who chaired the Conference. "Also exciting, the Saturday auction rang up record-setting funds to support the Guild's programs and community events."
Finding hours daily to work with the Guild showcases Orpin's mastery in time management given his many industry commitments and the growth and activity in his two companies. In November, Pioneer Millworks was named #32 in the Rochester (NY) Top 100 firms, the second year in a row that the company has been named due to its year over year growth. On the West Coast, Orpin has expanded the facilities to include an additional 8,000 sq ft of manufacturing space in McMinnville, southwest of Portland, Oregon.
Recently, Orpin was at Greenbuild in Washington, DC where Pioneer Millworks was honored with the FSC® Leadership Award for their initiatives and support of the Forest Stewardship Council®. He is frequently sharing his industry expertise with crowds around the country, including design firms, energy science groups, and more.
New Energy Works is having one of their largest growth years with expansive popularity for their timber frames, design/build (including interior design) and fine woodworking products. Both companies use the Triple Bottom Line of People, Planet, and Profit as their guiding filter while working across the nation and in several other countries.
The Timber Framers Guild is a nonprofit organized exclusively for educational purposes to provide training programs for timber framers, disseminate information about timber framing to the public, and serve as a general center of timber framing information for the professional and general public alike. Through the Guild's community projects, more than seventy-five heavy timber structures have been raised since 1985.
New Energy Works Timberframers have been designing and building environmentally responsible timber frames across the USA for more than 30 years from their facilities in New York and Oregon. Offerings include: Timber Framing (design, engineering, manufacturing, and build), Enclosure Systems, Fine Woodworking, and Recycled and Sustainable wood products. New Energy Works has two LEED AP staff members, is a member of the US Green Building Council, and is FSC-certified.
Pioneer Millworks is the leader in the reclaimed wood industry. To date, they've rescued nearly 25 million board feet of old wood from rot and landfills, giving it new life as flooring, paneling, millwork, cabinetry, and more. All wood is manufactured in a way that's healthy for customers, employees, and the environment. Pioneer Millworks is FSC-certified and Green America approved. All of their products are LEED point eligible.