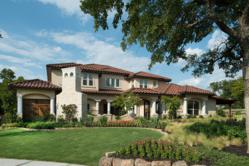 To be awarded this honor, a company must demonstrate excellence in all aspects of home building and innovation...
Dallas, TX (PRWEB) July 10, 2013
Capturing one of the home building industry's most prestigious honors, Toll Brothers, the nation's leading builder of luxury homes, has been named Texas Builder of the Year by the Texas Association of Builders for the fifth time – 2013, 2012, 2011, 2008, and 2007.
To be awarded this honor, a company must demonstrate excellence in all aspects of home building and innovation in numerous areas of operation including design, management, marketing, community relations, and customer satisfaction. Each year, the Texas Association of Builders recognizes the best in the residential construction industry with the Star Awards.
"We are completely humbled and honored to have received the Builder of the Year recognition once again. This emotion is shared by all of Toll Brothers' Texas associates and speaks volumes about Toll Brothers' quality, craftsmanship, and reputation," commented Tom Murray, Texas Group President. "We want to thank and share this accomplishment with our outstanding homeowners and committed business partners. They are a great part of our success," he added.
In addition to being awarded 2013 Builder of the Year, TollBrothers.com received the Best Website Star Award for its design and functionality but most importantly for providing the best customer online experience with features such as Design Your Own Home.
"We had a great experience building our home with Toll Brothers. The fact that Toll Brothers encouraged us to stay actively involved in the building process helped assure a quality outcome, with little fear of surprises. The service was excellent and frankly, better even than we expected. As a buyer, it is exciting to see Toll Brothers selected as Texas Builder of the Year. It reinforces our confidence in our decision to choose them and just helps to solidify the value of our investment," commented David and Carol L., Toll Brothers homeowners in Texas.
Toll Brothers' luxury home designs can be found across the nation and in 30 single-family home communities throughout Dallas/Fort Worth, Houston, San Antonio, in the near future, Austin. For more information visit TollBrothers.com/Texas and experience the award-winning builder today.
Toll Brothers, Inc., a Fortune 1000 company, is the nation's leading builder of luxury homes. The Company began business in 1967 and became a public company in 1986. Its common stock is listed on the New York Stock Exchange under the symbol "TOL." The Company serves move-up, empty-nester, active-adult, and second-home buyers and operates nationwide.
Toll Brothers builds luxury single-family detached and attached home communities; master planned luxury residential, resort-style golf communities; and urban low-, mid-, and high-rise communities, principally on land it develops and improves. The Company operates its own architectural, engineering, mortgage, title, land development and land sale, golf course development and management, home security, and landscape subsidiaries. The Company also operates its own lumber distribution, and house component assembly and manufacturing operations.
The Company was named 2012 Builder of the Year by Professional Builder magazine (http://www.housingzone.com) and becomes the first builder to win this award twice. Toll Brothers is honored to have won two other coveted awards in the home building industry as well: America's Best Builder and the National Housing Quality Award. The Company was also ranked #1 in 2011 and 2010 in Financial Soundness, Long-Term Investment, and Quality of Products/Services in FORTUNE magazine's annual World's Most Admired Companies survey in the home building category.
Toll Brothers proudly supports the communities in which it builds; among other philanthropic pursuits, the Company sponsors the Toll Brothers - Metropolitan Opera International Radio Network, bringing opera to neighborhoods throughout the world. For more information, visit TollBrothers.com.
This is not an offering where prohibited by law.