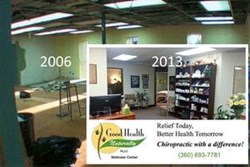 Our 7-year anniversary is really a celebration of all the fantastic patients who make our practice possible.
Vancouver, WA (PRWEB) November 06, 2013
On November 1, 2006, local chiropractor Dr. Mark Blessley began building out new office space for his practice. Two months later, he opened the doors of the Good Health Naturally Wellness Center for the first time at its current Vancouver, WA location on January 2, 2007. Fast-forward to 2013. After 7 years, the Center continues to grow and evolve to serve the community's changing healthcare needs. And a holistic approach to patient-centered care continues to be at the core of its mission.
Dr. Blessley understands how important long-term relationships are to his practice. "Our patients are some of the best people in the Portland-Vancouver metro area, and we love and appreciate them. Some patients come from 40 miles away on a regular basis, and we've had several others who've traveled 3,000 miles. Of course, the ones traveling 3,000 visit a little less often! But regardless of the distances involved, they've been loyal to us over the years."
Although the economic downturn affected nearly all local businesses in one way or another, Good Health Naturally has actually experienced continuous growth every year. 2013 saw the practice achieve two important milestones, serving over 1,500 patients across more than 25,000 visits since the beginning of 2007. "Every new patient encounter and patient visit is important because we give them value in the form of physical relief and correction as well as advice on how to live more healthfully in the future."
Asked about the factors driving the Center's growth, Dr. Blessley believes it comes down to a growing need. "When you consider the kind of environment many of us are living in, it's not surprising that the threats to wellness are increasing." he says. "For more and more people, everyday lifestyle issues are translating into physical and emotional problems as well as high levels of continuous stress. People are more likely to get sick." This connection between stress and illness is well-recognized by both medical researchers and practitioners. According to the Mayo Clinic, stress that's left unchecked can contribute to a variety of health problems, such as high blood pressure, heart disease, diabetes and obesity. To meet the growing need, Good Health Naturally offers a variety of services that can help patients find relief from their symptoms and address the underlying causes. "Everyone can use a guide or coach sometimes," Dr. Blessley explains, "to help find the most efficient path to health, wellness and fulfillment. A one-on-one, personal session can often get to the bottom of issues that have been holding you back for long periods, and can jump-start your progress."
For Good Health Naturally, growth has also come as a result of being active in the local community. This has created both visibility and opportunities to educate people about the benefits of chiropractic care and its century-plus track record of improving patients' health and well-being. Dr. Blessley has broadened his outreach and service efforts by adding more speaking engagements to his schedule. His speaking engagements have included the Kiwanis club, Clark College, various area middle and high schools, and several recent health fairs, such as Vancouver Streets Alive in August and the Annual Peace and Justice Fair in September. He will also be presenting at the upcoming Fort Vancouver Regional Library Benefits Fair to be held on November 7, 2013. It's this sort of ongoing involvement that led the Vancouver Business Journal to profile the Center earlier this year in an article called "Good Health Naturally: A prognosis of growth."
While the Center's approach to patient care has remained consistent over the years, Dr. Blessley is quick to point out that many new additions and improvements have contributed to Good Health Naturally's success. "Change has helped us do more good for more patients, and to do it better and more efficiently. Our team members—Dr. Roger Barnick (chiropractic physician), Theresa Romey and Diane Charmley (therapeutic and relaxation massage), Debbie Seabridge and Sandra Horton (front desk) and Deanna Kinsey (billing and patient advocacy)—have all played a huge role since joining us." New processes and technology have also helped. "In 2007, we started the clinic with a basic electronic chart notes system. It was relatively simple, but it was still way ahead of many other clinics that continued to use handwritten notes at the time. Today, we continue to be ahead of the curve. We use a state-of-the-art software system by Future Health that's cloud based and fully-integrated. Obviously, this helps improve our access to information and streamlines our work."
Looking to the future, Dr. Blessley sees ways to use Good Health Naturally's website to extend the practice's reach and educate more people. "I think video has a lot of promise, and we'll be working to build new video resources on our site, including segments on stretching, preventative strategies, fitness activities, and health and wellness topics." He and his team will also remain on the lookout for other ways to promote a culture of wellness. "Ralph Waldo Emerson once said that 'The First Wealth is Health'. If this is true, then our clinic is providing a real form of increased wealth for a lot of people. There is no greater feeling than that."
About Good Health Naturally Wellness Center
Good Health Naturally Wellness Center has been providing "Chiropractic With a Difference" to residents of Vancouver, WA since 2007. The Center specializes in helping people recover from injury or illness and coaching them to make lifestyle choices that minimize future health problems. Services include chiropractic care, massage therapy, cold laser therapy, nutritional counseling and creative visualization and relaxation. Good Health Naturally also offers a variety of rehabilitation and posture aids, nutritional supplements and topicals.
Good Health Naturally Wellness Center
3606 Main St.
Suite 205
Vancouver, WA 98663
(360) 693-7781
http://healthonline.us
Follow Good Health Naturally on Facebook.