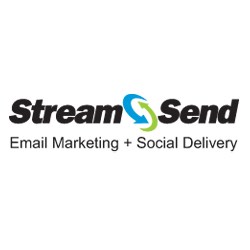 Today's competitive digital world makes it difficult to get the consumer's attention, especially during the holiday season. - Dan Forootan, President of StreamSend.
New York, NY (PRWEB) December 19, 2013
StreamSend, a leading email marketing service provider and creator of the enhanced social marketing tool StreamSend Share 2.0, is helping email marketers increase click-through rates, conversions, dollars generated and average order value with video-in-email capabilities.
"Today's competitive digital world makes it difficult to get the consumer's attention, especially during the holiday season," explained Dan Forootan, President of StreamSend. "Nothing connects people to a message as quickly as video," he continued.
A Relevancy Group whitepaper supports his statement, showing that adding video to email can boost revenues by forty percent. According to a study by Gartner Research, video email marketing offers a return 280% higher than traditional direct mail.
The StreamSend video-in-email widget is powerful. Not only does it embed video into an email, but as recipients watch the video, they can share it to social, forward it as an email, embed it into a web page, or the viewer can opt in to your email list – directly from the video when viewing it. It also gives the ability to track all video engagements from one central location.
Early adopters of video email marketing will gain market share. Eighteen-to-thirty-year-olds are spending 74% more time watching YouTube on their smartphones than they did last year. Yet only 25% of email marketers are using video in email to increase engagement and improve marketing results.
Retailers nationwide are using StreamSend's video-in-email capabilities to increase sales this holiday season. StreamSend offers hundreds of professionally designed email, social and mobile templates with simple drag and drop functionality so a user can easily update templates with new images, videos, RSS feeds and surveys. Its smart message delivery system streamlines your marketing process by providing the user with the ability to create a campaign once and deliver it to email, social and the web with the click of a button.
To learn more, visit http://www.streamsend.com/HolidayEmailCampaigns.
To learn how trends in Video Email Marketing can impact business, download this free whitepaper written by the Relevancy Group at http://www.streamsend.com/VideoRoi.
About StreamSend:
Established in 1998, StreamSend is a leader in Email Marketing and Social Delivery. It offers easy-to-use, affordable and reliable services designed to help businesses reach marketing goals. StreamSend offers a number of industry-leading standard pricing plans, private-label and affiliate programs and hands-on personal client service.
Related News:
StreamSend Offers RSS-Driven Content Automation
StreamSend: Email Marketing Still Outperforms During Critical Holiday Season