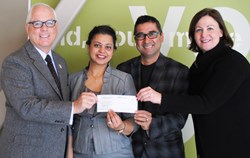 WebTeam has been a longtime partner in Eden's efforts ... This generous donation puts us closer to realizing our capital campaign goal and demonstrates WebTeam's commitment to the work Eden does
Somerset, New Jersey (PRWEB) January 31, 2014
WebTeam Corporation, a technology development subsidiary of Rangam Consultants and a longtime partner in developing innovative educational programs for managing autism, has made a $25,000 gift to Eden Autism Services. The donation moves Eden closer to its goal of raising $500,000 by March 31, the deadline for meeting a $500,000 challenge grant offered by 15 Eden families and two Eden friends last October in support of Eden's $7 million capital campaign. Nurturing Today, Embracing Tomorrow – Eden's first major capital campaign – was launched in 2009 with a goal of raising $7 million to build a new Education and Outreach Center and strengthen Eden's endowment with a focus on adult services. Currently, the organization has raised $436,000 toward the $500,000 needed to obtain the challenge grant, which would allow Eden to achieve its $7 million goal.
"WebTeam has been a longtime partner in Eden's efforts to take its comprehensive educational curriculum for children and adults with autism into the digital world," says Melinda Gorny McAleer, Eden's Chief Development Officer. "This generous donation puts us closer to realizing our capital campaign goal and demonstrates WebTeam's commitment to the work Eden does."
WebTeam collaborated with Eden to develop iLearnNEarn, a series of educational apps for individuals with autism. The app series, compatible with mobile devices and classroom kiosks, includes a comprehensive library of Applied Behavior Analysis (ABA) curriculum-based interactive activities that can be tailored to individual needs and abilities, themes and rewards. iLearnNEarn2, the latest generation app, is available in 2 versions: iLearnNEarn2 – Infant and Toddler and iLearnNEarn2 – School and Adult Series. The Infant and Toddler version includes 75 skills for preschoolers, while the Adult version will include 200 skills covering all 4 skill domains for students, K thru 12 and adults. The iLearnNEarn educational app series is available for downloading at: http://www.ilearnnearn.com.
"We are committed to helping the growing number of children diagnosed with autism lead more independent lives through innovative educational technologies," commented WebTeam CEO Nish Parikh, whose company was recently awarded the Verizon Powerful Answers Award at the 2014 International CES for its innovative solutions for managing autism utilizing mobile and wireless technology. "Our financial contribution reinforces that commitment."
Since launching the campaign, Eden has opened its model Education and Outreach Center in the Princeton Forrestal Village and has added to the endowment fund with a focus on adult services. Eden's adult programs include a day employment program as well as residential services. Unfortunately, there is a significant gap between state funding and the actual costs to maintain Eden's commitment of quality services to adults with autism. For this reason it is crucial that Eden strengthens its endowment fund.
If you would like to participate in Eden's challenge grant or would like more information, contact Eden's Foundation office at (609) 987-0099 ext. 3510 or email foundation(at)edenautism(dot)org.
About Eden
Founded in 1975, not-for-profit Eden Autism Services was among the first to provide a wide range of science-based services to children and adults with autism through early intervention, 3 to 21 education, employment, adult residential, and consultative programs employing Applied Behavior Analysis (ABA). With a national prevalence rate of 1 in 88 births (1 in 49 in New Jersey), autism is the third most common developmental disability. Recognized nationally, Eden is a leader in working with individuals who have the most challenging behavioral and cognitive deficits. Eden's outreach department offers support and training for families and professionals and has made available for purchase the Eden assessment and curriculum, available in print and online (ELMS: Eden's Learning Management System), which comprises nearly 40 years of clinical experience. For more information, visit http://www.edenautism.org or call (609) 987-0099. Follow Eden on Facebook, Twitter and LinkedIn.
About WebTeam Corporation
WebTeam Corporation was incorporated in 2005 in New Jersey to design, develop, and promote technologies for education and distance learning and training. It began as a technology development subsidiary of Rangam Consultants Inc., a company specializing in professional staffing services.
WebTeam Corporation was founded at a time when autism intervention in the classroom was largely unstructured. Back in 2007 and the ensuing couple of years, WebTeam was busy experimenting with a few technologies to ascertain if teachers could benefit from using touchscreen kiosks in the classroom. The experimentation led to the development of S.H.A.N.E.S.H. Colors Program, which, together with the app-based iLearnNEarn program that was put to use in 2011, charted a new horizon in autism treatment by extending classroom intervention to homes and therapy centers globally. Since January 2012, WebTeam's autism apps have registered 1.2 million downloads across iTunes, Google Play, Nook and Kindle, while delivering 10,000 daily sessions on average.
At the 2014 International CES, WebTeam's innovative autism management technology received global recognition, when Verizon awarded the company $500,000 in its Powerful Answers Award Contest.
The company's mission is to increase the bandwidth of the educational bodies and service providers to accommodate the increasing demand of autism intervention along with helping children with ADHD, autism and Asperger's to improve their lives by making them independent. For more information about WebTeam's collaborative initiatives, programs and apps, visit http://www.specialgamechanger.com and http://www.innovationforautism.com.