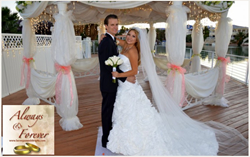 The Gazebo Opal package is great for couples wanting an intimate wedding and reception with close family and friends
Las Vegas, NV (PRWEB) November 05, 2014
Award-winning wedding consultants Always & Forever Weddings and Receptions is announcing the extension of their all-inclusive Lakeshore Ceremony and Reception special priced at $4,500. The highly popular special includes a wedding ceremony overlooking a gorgeous 38-acre lake followed by a full three-hour reception inside the Lakeshore reception hall.
"The Gazebo Opal wedding package in Las Vegas is great for couples wanting an intimate wedding and reception with close family and friends. Once couples see the gazebo overlooking the gorgeous body of water they're hooked. And at just $4,500 for absolutely everything, what's not to love," said Always & Forever owner Raquel Ryan
The Gazebo Opal Special includes a 60-minute ceremony, and an additional three hours for the reception. Other details of the package include professional photographer, hand-crafted bouquet for the bride and boutonniere for the groom, drinks, dinner buffet, wedding cake, professional DJ, house music, champagne toast, choice of centerpiece, and much more.
"The Gazebo Opal Special is one of my favorites because it allows couples to have that fairytale wedding and reception at the fraction of the cost. The average wedding in the United States just hit the $30,000 mark, but we're finding that many couples don't want to spend that much. And with affordable wedding packages in Las Vegas like ours, you don't have to," Ms. Ryan went on to say.
To learn more about these wedding packages and to book a wedding and reception venue in Las Vegas , call Always & Forever Weddings and Receptions at: 702-318-5683
About Always & Forever Weddings and Receptions
Always & Forever is an award-winning wedding and ceremony consulting firm with several indoor and outdoor wedding venues in Las Vegas . The firm is owned by renowned wedding consultant Raquel Ryan.
Location:
Always & Forever Weddings and Receptions
2902 Lake E Dr, Las Vegas, NV 89117
(702) 318-5683 | (800) 259-2978
Contact Name: Raquel Ryan
Contact Phone: 702-318-5683