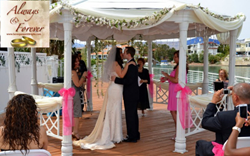 Couples looking for an economic value without sacrificing quality will love the Gazebo Coral Special
Las Vegas, NV (PRWEB) November 14, 2014
With the average wedding in the United States costing $30,000, many couples are heading to Las Vegas for their dream wedding. Las Vegas, known for its drive-thru chapels, also offers traditional weddings and receptions from organizations like Always & Forever Weddings and Receptions. The Las Vegas-based firm just announced the extension of their highly popular Gazebo Coral Special good for up to 50 guests, a 30-minute ceremony overlooking a lake, choice of minister, traditional music, use of reception hall for two hours, drinks, hors d'oeuvres buffet, and more.
"Couples looking for an economic value without sacrificing quality will love the Gazebo Coral Special. It's literally 1/10 the cost of the average wedding. Couples can still have a dream wedding and reception in Las Vegas with their closest family and friends, and have more money left to spend on their honeymoon – and they're not burdening themselves or their families with mountains of debt by overpaying for an expensive wedding," said Always & Forever owner and wedding consultant Raquel Ryan.
The Lakeshore Gazebo is located on a private dock overlooking a scenic 38-acre lake. The indoor reception facility offers views of the lake and includes an amazing 6-foot waterfall. The locale is one of many offered by Always & Forever and continues to be one of their most popular venues.
Ms. Ryan went on to say, "Couples often tell me that our Lakeshore Gazebo is something out of a movie. That it fits the description of what they imagined when thinking about their Las Vegas Wedding."
For more details about the Gazebo Coral Special and to book a Las Vegas wedding package now, visit Always & Forever Weddings and Receptions at 702-318-5683
About Always & Forever Weddings and Receptions
Always & Forever is an award-winning wedding and ceremony consulting firm with several indoor and outdoor wedding ceremony and reception venues throughout the Las Vegas area. The firm is owned by renowned wedding consultant Raquel Ryan.
Location:
Always & Forever Weddings and Receptions
2902 Lake E Dr, Las Vegas, NV 89117
(702) 318-5683