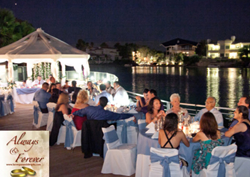 Many couples are choosing to have a small wedding with just close family and friends, but still want to have a larger reception
Las Vegas, NV (PRWEB) January 23, 2015
Award-winning wedding and ceremony planners Always & Forever Weddings and Receptions is now offering reception only packages at a discounted price for a limited time only. Happy couples get 10% off the price when mentioning "weekly special" or 20% off the total price when mentioning "pay in full" at the time of booking.
The ceremony only packages at Always & Forever start at just $3,700 for up to 50 guests. With the average wedding in the United States now exceeding $20,000, that's an excellent price.
"Many couples are choosing to have a small wedding with just close family and friends, but still want to have a larger reception," said Las Vegas Wedding Planners Always & Forever owner Raquel Ryan.
Reception only packages in Las Vegas are offered at Always & Forever's popular Lakeshore venue, featuring a beautiful gazebo overlooking a lake. The indoor venue features 365-degree views of the surrounding water and an indoor waterfall. Packages vary and include food, photography, DJ/Emcee, custom cake, drinks, and more.
"Our Lakeshore venue is absolutely stunning. Guests can mingle inside and out enjoying the great views and wonderful Las Vegas weather. If there was such a thing as a perfect reception venue, Lakeshore is that place."
To learn more about Always & Forever's reception only packages and to book your reception now, visit Always & Forever Weddings and Receptions at: http://lasvegaswedding4u.com/product-category/receptions/
About Always & Forever Weddings and Receptions
Always & Forever is an award-winning wedding and ceremony consulting firm with several indoor and outdoor wedding reception locations in Las Vegas. Always & Forever is known for their outstanding customer service and scenic indoor and outdoor venues throughout the Las Vegas region. The firm is owned by renowned wedding planner Raquel Ryan.
Contact Information
Always & Forever Weddings and Receptions
2902 Lake E Dr, Las Vegas, NV 89117
(702) 318-5683 | (800) 259-2978
Contact Name: Raquel Ryan
Contact Phone: (702) 318-5683
Email: info(at)lasvegaswedding4u(dot)com
Website: http://lasvegaswedding4u.com