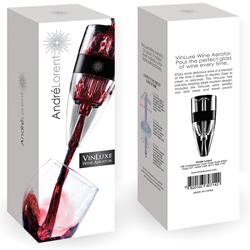 The contestant with the winning video will be awarded a $100 Amazon gift card.
Victor, NY (PRWEB) March 04, 2014
Ben Cummings, co-founder of Andre Lorent Lifestyles, has announced that the company will be holding a video contest to celebrate and publicize its best-selling VinLuxe Wine Aerator.
"We've gotten such a tremendous response from our customers and the wine community; we wanted to do something that would allow those customers to share their experience with the VinLuxe Wine Aerator and have some fun at the same time," says Cummings.
To get more information about the Vinluxe Wine Aerator, one should click here.
The VinLuxe Wine Aerator has indeed gotten a great deal of attention since it was released during the holidays. Initial sales far exceeded the company's expectations and the release of their demonstration video on YouTube increased sales by a surprising 23%. Amazon recently named the VinLuxe Wine Aerator to both its Best Sellers list and its list of "Movers and Shakers."
"We're very grateful for the recognition from Amazon," explains Cummings, "but we're even more excited about the comments and emails from the customers who have purchased and are using the VinLuxe."
Enthusiastic praise for the results produced by the innovative wine aerator provided the inspiration for the video contest.
"What we're looking for are short videos in which customers share their experience with the VinLuxe and why they love it so much," says Cummings. "The videos don't have to look professional or stylish, although they certainly can, and we're looking for a lot of individuality. The videos can be humorous, musical or have any other elements that the contestant feels suits their personality."
The contest begins today and all entries must be received by midnight, Friday, March 7th, 2014. The contestant with the winning video will be awarded a $100 Amazon gift card. Those interested in entering the contest can get full details at the company's website.