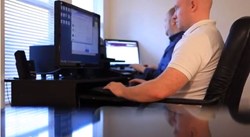 Their WordPress marketing skills have caused... a RV sales company... to more than triple their yearly online sales.
Seattle, WA (PRWEB) August 04, 2013
Companies who rely on the WordPress CMS to take care of their website are now able to hire the popular internet marketing company Fannit.com to manage all of their WordPress SEO needs. Fannit looks forward to helping companies increase their online exposure through ethical WordPress SEO practices.
Their CEO, Keith Eneix, says, "We've been using the popular CMS as a baseline for our clients for years and would like to formerly announce that we will be moving forward with showcasing WordPress SEO as one of our main offerings. WordPress allows us to keep our customers content marketing plans flowing smoothly, as we are able to carefully observe best practices for search engine optimization efficiently."
Their WordPress marketing skills have caused the owner of a RV sales company in Everett Washington to more than triple their yearly online sales. "We don't use unethical practices when doing online promotion for our customers," says the CEO of Fannit. "The foundation of good SEO is good content promotion. That's how we treat all of our clients' campaigns, and that is what continues to provide great income for them." Their online services also cater towards larger companies who need Enterprise SEO services.
About Fannit.com
Fannit.com is a full service internet marketing agency that helps companies increase their online presence through engaging and well placed content. They service Seattle area and U.S. based companies for content development, SEO, PPC, E-mail, Press Release, and Website Funnel Optimization.
Fannit
2911 Hewitt Ave
Everett WA 98201
425-359-7989