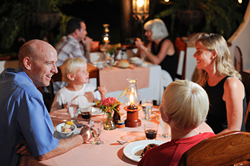 Chaa Creek has always encouraged families to share adventures together.
San Ignacio, Belize (PRWEB) May 24, 2016
The Lodge at Chaa Creek is encouraging families to close the generation gap and enjoy shared learning adventures this summer with Belize vacations especially designed for grandparents and younger family members.
Elsie Pacheco, Chaa Creek's reservations administrator, said summer school vacations present perfect opportunities for grandparents to reconnect with younger members of the family, and by taking advantage of new all-inclusive Belize vacation packages, they can enjoy affordable, hassle free holidays designed to stimulate visitors of all ages.
As a bonus, guests will return home with a richer understanding of cultures and the natural world, she added.
"Throughout the summer, Chaa Creek will be hosting cultural expositions designed to introduce visitors to Belize's rich ethnic and cultural diversity through enjoyable activities designed to appeal to a wide range of ages and interests. Having seen how close family members become when they're sharing adventures and discovering new things together, we wanted to create opportunities for everyone, from seniors to juniors, to learn together," Ms. Pacheco added.
The Grandparents Discovery All-Inclusive Belize vacation package includes everything for a completely enjoyable and affordable holiday, Ms. Pacheco said. Lodging in eco-luxe, thatched-roof cottage style accommodation, all meals, activities, land transfers, a visit to the Belize Zoo and even staff gratuities are covered for one set price, she said.
"By not having to plan and then pay for each and every thing, families can relax and focus on spending quality time with each other while enjoying significant savings. From the moment we pick them up at Belize's international airport until we drop them back off, our guests are completely looked after by a large friendly staff and team of licensed naturalist guides who are always on hand to answer questions, suggest activities and help everyone get the most out of their vacations.
"For example, for people who have never canoed, the usually tranquil Macal River and guided excursions are a great way to start. If they've never been on horseback before, we have experienced, patient guides and a range of horses to accommodate both novices and experienced riders. Some birders are happy to set off along our extensive trail system with a bird book, water and snacks, but we also have expert birding guides who conduct early morning guided excursions, and being surrounded by ancient Maya temples and magnificent abandoned cities makes for some very exciting day trips, " she said.
The award-winning Belizean eco-resort is located within a secure, 400-acre private nature resort with an onsite Natural History museum, live butterfly exhibit, Maya medicinal plant trail, a traditional Maya organic farm that supplies the restaurant's fresh farm-to-table cuisine and other attractions for guests to explore at their leisure, Ms. Pacheco added.
Ms. Pacheco said that Chaa Creek's "Belize Culture University" initiative, set to be formally announced and begin in June 2016, has been designed to showcase the various cultures that make up Belize's famously harmonious multicultural society.
"This will be a hands-on, participatory way to learn about the Maya, Creole, Mestizo, Garifuna, European, Mennonite and other groups that have come together over the years to create modern day Belize. Through history, music, art, exploring ancient Maya temples, making tortillas and some traditional meals, along with other activities, guests will take part in a cultural extravaganza that will leave them richer for the experience," she said.
Ms. Pacheco said that in addition to exciting activities, there is always plenty of time for relaxation at Chaa Creek.
"With an infinity pool, lounge, games room, hammocks on private verandas and our internationally recognized, full service Hilltop Spa, swimming, chilling out with a good book, playing board games and just enjoying each other's company is easy to do.
"Add in learning adventures, great food, exciting activities and quality amenities, and you have all the makings of a wonderful family vacation," Ms. Pacheco said.
Chaa Creek, as a family owned and operated eco resort for over thirty years, has always encouraged families to share adventures together, Ms. Pacheco said. "Over the years, we've established a reputation as Belize's family oriented eco resort, and I think that's why Disney recently selected Chaa Creek as a top prize to promote their film, 'Zootopia,' or why one of America's most high profile families had us host their children and friends," she said.
"And, as a family business, we have an appreciation for grandparents and their importance in the family unit. This is one way for us to honor grandparents and make it easier and more affordable for them to do something special," she added.
Ms. Pacheco encouraged people to contact their travel agents or Chaa Creek directly and ask about the Grandparents Discovery All-Inclusive Belize vacation package to learn more and secure bookings.
"Even if they do not wish to book for the entire package, we still welcome grandparents and families for more casual visits, and are happy to work with them to tailor their vacations, such as organizing surf and turf holidays that include visits to Belize's Caribbean Sea attractions, like the Belize great barrier reef, islands including Ambergris Caye or coastal villages and resorts.
"The most important ingredient is the family itself, and having the time to enjoy and reconnect with each other. The stunning scenery, excellent weather and exciting activities are all icing on the cake.
"And it's pretty delicious icing at that," Ms. Pacheco added.
The Lodge at Chaa Creek is a multi award winning eco resort set within a 400-acre private nature reserve along the banks of the Macal River in Belize.