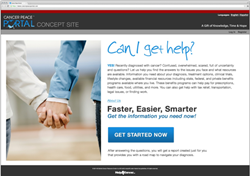 Vancouver, WA (PRWEB) March 28, 2014
Young adults have limited resources and in most cases inadequate support. What young adults do have is a fantastic understanding of technology and multimedia. That's where Cancer Peace Portal comes in.
Young adults will find this unique resource to help bring greater hope and better living through the knowledge through technology.
When a young adult is diagnosed with cancer they need more than just information. They need to know what questions to ask; what options they have and what choices they face. They need to know how to be heard and how to find those who will listen. They need to know not just how to survive, but how to thrive and find peace in each moment.
Today, there are more than a billion cancer pages online. They offer look-ups, facts, and very limited guidance. While most are well intentioned, none begin with the patient. None of them personalize the information they serve up. Some have bad or obsolete information. Fewer still can offer the hope a young adult patient needs and the support they deserve.
Young adults set out to find answers as to what issues they face and what resources are available to them. These new patients struggle to determine the questions to ask and must discern among multiple sources for credible answers. Left to evaluate treatment options, find community support, obtain access to clinical trials (or not), and locate sources of financial support on their own, the confusion surrounding this leads to a sense of despair, discouragement, relational/family difficulties, unnecessary financial hardships, delays in treatment and even death.
Now imagine these young adult cancer patients (and those that love them) being able to access a complete online clearinghouse of information and resources, both local and national, which will help answer all their questions with a few simple clicks. This resource will be comprehensive, continually updated by cancer-related product and service providers and community groups and available to young adults free of charge.
This is Help4Cancer.net's Cancer Peace Portal. The only resource of its kind, Cancer Peace Portal will quickly become the "go-to" information hub for young adult cancer patients, cancer survivors, family members, service and product providers, as well as a community resource for healthcare agencies and faith based organizations.
The portal will be able to sort through the plethora of information to enable young adults to get to what matters most in their situation based on their type of cancer, their location, their financial profile and health condition. Because THEY matter.
About Help4Cancer.net
Help4Cancer.net exists to help cancer patients, survivors and those who serve, love and care for them.Help4Cancer.net is a federally registered 501(C)3 non-profit that was founded in March of 2012 to equip the cancer community by providing charitable multimedia services for people affected by cancer and those serving the cancer community.
Related News:
NPO, Help4Cancer.Net, Seeks to Raise $239,000 via Indiegogo Crowd Funding for the Development and Launch of the Revolutionary Internet Resource "Cancer Peace Portal"
NPO, Help4Cancer.Net Launches Cancer Peace Radio™ Brings Real People, Real Stories, and Real Experts That Talk About Life with Cancer
NPO, Help4Cancer.Net Launches New Website to Provide All-In-One Cancer Resources Directory