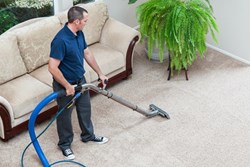 Enviropure handles Ottawa's commercial carpet cleaning needs in government buildings, banks, medical offices, retailers, hotels and restaurants.
Ottawa, ON (PRWEB) December 01, 2013
Enviropure Home Services of Ottawa is known throughout the city for its excellent home cleaning services, but also services all kinds of commercial buildings. They have contracts at government buildings, banks, medical offices, retailers, hotels and restaurants, and are known for their prompt, professional, and invisible service. Enviropure has many clients on weekly and monthly schedules, but will gladly take one-time jobs.
Regular maintenance of carpets is especially important in commercial buildings. Professionally cleaned carpets can make a powerful first impression on customers. Also, employees are happier and more productive in clean, allergen free environments. It only makes sense to schedule regular carpet cleaning in Ottawa's professional spaces. Enviropure has been doing "green" cleaning for almost ten years now, and were doing it far before it was fashionable to do so.
Enviropure handles many restaurants that require special care. Carpets in restaurants are subjected to all kinds of food spills, broken glass, and beverage stains. Regularly and professionally cleaned carpets make all the difference in restaurants. Enviropure uses non-toxic Eco-friendly cleaning supplies that don't leave harsh chemical smells or residue.
Many of Ottawa's top Realtors use Enviropure Home Services to prepare properties for sale. Often carpets are ripped up and hauled away that still have life in them. A thorough, professional carpet cleaning is often all that's needed. Enviropure cleans carpets in buildings for sale, rentals, and model homes.
Enviropure Home Services can also do the tough jobs and emergency jobs quickly and professionally. They often have to remove blood stains, urine stains, pet dander, and odors from smoke, animals, chemical spills and mold. Once again, Enviropure professionals may be able to save business owners the expense of replacing carpets, even in extreme circumstances.
Enviropure Home Services operates throughout the greater Ottawa area. Their prices are competitive and they also do duct cleaning, lawn service, snow removal, upholstery cleaning, tile and grout, and construction site cleanup.
About Enviropure:
Enviropure Home Services is located in Ottawa, ON and is dedicated to providing a healthy and Eco-friendly variety of services. They clean green and use natural products in their home and carpet cleaning as well as in their lawn care and snow removal services. There are four staples that they believe in; Quality Control, Consistency, Security and Honesty in Pricing.
Related News:

Related Search Terms:
[Carpet Cleaning Services] [Green Cleaning Services] [Eco-friendly Cleaning] [Commercial Carpet Cleaner] [Google Trending] [Breaking News]
Related Hashtags:
#CarpetCleaner #CleaningServices #Ottawa #EcoFriendly #GoogleTrending #BreakingNews #Enviropure #GreenCleaning #CommercialCarpetCleaning