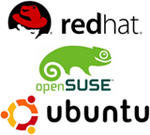 Comparison of openSuse, Ubuntu and Red Hat
(PRWEB) April 15, 2014
Threehosts.com compares the top 7 Linux Operating Systems, including openSUSE, Ubuntu and Red Hat. The detailed comparison is available at http://www.threehosts.com/ratings/comparison-software/linux-vs-ubuntu-vs-centos-fedora-vs-debian-vs-red-hat-vs-open-suse-vs-mint.html.
Ubuntu is the most user-friendly Linux distribution, offering strong community-based support and a consistent release cycle. It has also a reputation for security. Ubuntu updates the latest software versions on a regular schedule. The disadvantage of frequent updates is that it's hard to keep bugs from slipping into the system. In fact, Ubuntu is not intended to be updated with all the latest software as time goes on. It is designed for the opposite, to be stocked with long-tested software and only upgrading them with critical and security-related fixes. Ubuntu is the best choice for newbies.
Red Hat can be the best choice when a user needs the maximum level of enterprise software compatibility, but it costs an additional license fee. Red Hat Enterprise Linux (RHEL) is for enterprise-level servers. RHEL requires an extra license fee to Red Hat to access their non-free software components. RHEL is stable and handles heavy loads well. The main reason to use RHEL would be if a user is running a software that has RHEL in its list of supported operating systems. This means it aims at larger businesses. If a user is not running software that requires RHEL but want to take advantage of its reliability they can choose Ubuntu or CentOS instead.
openSUSE package management is slower than Debian-based APT. It is rather bug-free and comes with a rich selection of programs. openSUSE is a little more difficult to setup by newbies.
A Linux distribution is an operating system built on top of the Linux kernel. Well-known Linux distributions include Debian, Ubuntu, Mint, OpenSuse, Red Hat, CentOS and Fedora. There are some tools available to help people select an appropriate distribution. The diversity of Linux distributions is due to technical, organizational, and philosophical variation among vendors and users.