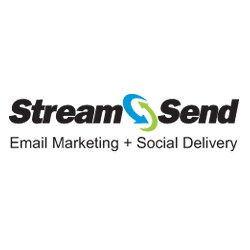 It's essential that email marketers adapt by spending smarter, integrating email with other digital platforms, and driving highly targeted automated campaigns. - Dan Forootan, president of StreamSend Email Marketing
New York, NY (PRWEB) December 23, 2013
"Many businesses have come to us interested in marketing integration and automation, but are concerned that it may be too big of an investment of their time and budgets," said Dan Forootan, president of StreamSend Email Marketing. "They are surprised and relieved to find out that it can be done more efficiently and cost effectively than they thought possible."
According to the DMA Email Marketing Council, email marketing still drives the highest ROI in 2013. However integration with social makes it even more effective. A recent study by the Relevancy Group shows that marketers using email in combination with social sharing drive six times more revenue. Another study shows that taking it a step further and combining it with Video can boost revenues by forty percent.
"New channels and communication options are transforming the way consumers make purchase decisions, gain more information about products and services, and find deals and purchase incentives," said Dan Forootan, president of StreamSend Email Marketing. "It's essential that email marketers stay on their toes and adapt by spending smarter, integrating email with other digital platforms, and driving highly targeted automated campaigns."
StreamSend has a longstanding reputation for offering a simple interface, cost effective service, personal support, and deliverability expertise with any size list. With smart message delivery options that streamline the email marketing process, users create a campaign once and deliver it to email, social and the web with the click of a button. It's feature-rich and intuitive platform makes it easy to roll out integrated campaigns, quickly and effectively. Advanced features allow you to automate your email campaigns with triggered emails, advanced segmentation, RSS publishing, and convert social engagement into email lists. Furthermore, StreamSend offers hundreds of professionally designed templates with simple drag and drop functionality that can easily be updated with images, videos, RSS feeds, surveys and more.
To download a free guide on how to successfully incorporate social, video, remarketing and marketing automation into your email marketing strategy, go to http://www.StreamSend.com/EmailAutomation.
To learn more about StreamSend visit http://www.streamsend.com/automation.
About StreamSend:
Established in 1998, StreamSend is a leader in Email Marketing and Social Delivery. It offers easy-to-use, affordable and reliable services designed to help businesses reach marketing goals. StreamSend offers a number of industry-leading standard pricing plans, private-label and affiliate programs and hands-on personal client service.
Related News:
StreamSend: Email Marketing Still Outperforms During Critical Holiday Season
StreamSend Offers RSS-Driven Content Automation
StreamSend Offers Superior Email Engagement With Video-In-Email Marketing This Holiday Season