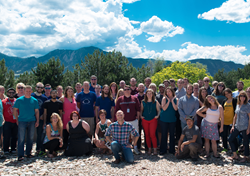 Our focus on company culture will continue to be a critical part of our growth and success. -Christian Vanek, CEO & Co-Founder
Boulder, Colorado (PRWEB) April 10, 2017
SurveyGizmo has been awarded a 2017 Top Workplaces, Workplace Achiever honor by The Denver Post. The Top Workplaces list is based on the results of a voluntary employee feedback survey administered by WorkplaceDynamics, LLC. Several aspects of workplace culture were measured, including Alignment, Execution, and Connection.
"The Top Workplaces award is not a popularity contest. And oftentimes, people assume it's all about fancy perks and benefits," says Doug Claffey, CEO of WorkplaceDynamics. "But to be a Top Workplace, organizations must meet our strict standards for organizational health."
"Our culture is very important to us," says Christian Vanek, CEO & Co-Founder of SurveyGizmo. "We're grateful to be named a Workplace Achiever. Building a collaborative, fun, and supportive environment is vital to employee happiness. Our focus on company culture will continue to be a critical part of our growth and success."
Employees feel inspired by CEO Christian Vanek's leadership. He drives the company to new heights and encourages employees to push themselves. "I've been with SurveyGizmo for five years now," says Topper Shull, Support Team Lead. "Having actual community in a company is the core of what makes SurveyGizmo such an invigorating place to work. Christian's vision focuses on our company's success and growth, which in turn cultivates the very best in every team member."
The recent additions of COO Nicole Craine and Director of Marketing Regine Smith position the company for greater growth. SurveyGizmo is working to change the way people collect and gain insights from data, and it's an exciting time to be a part of SurveyGizmo. "6 years ago I was hired as a customer support agent, and today I'm directing a 24/7 Support and Services team," says Taylor Morgan, Director of Support. "We have a clear vision, and I am excited to tackle the challenges ahead with this truly amazing group of people."
The company's focus on appreciation is essential to the fabric of the culture. "I've watched the company grow from 14 to 95 employees," says Garrett Glissmann, Software Developer. "They continue to recruit some of the kindest and most supportive people out there. I have always been encouraged to contribute my ideas, and I consistently feel that my voice is heard and appreciated."
SurveyGizmo is deeply honored by the Workplace Achiever recognition. The employees have spoken – SurveyGizmo is really a great place to work.
The company is growing quickly and hiring. Visit SurveyGizmo's Careers Page for more information.
About SurveyGizmo
Founded in 2006, SurveyGizmo is a powerful, insights solution that empowers business professionals to make informed decisions. It provides data insights in over 205 countries, with 50,000 new surveys created and 7.5 million responses collected every week, for customers like Fedex, Microsoft, Bloomberg Television, GE, and ESPN. SurveyGizmo is recognized as a leader in the survey industry for its innovation, service, and value.
About WorkplaceDynamics, LLC
Headquartered in Exton, PA, WorkplaceDynamics specializes in employee feedback surveys and workplace improvement. This year alone, more than two million employees in over 6,000 organizations will participate in the Top Workplaces™ campaign – a program it conducts in partnership with more than 40 prestigious media partners across the United States. Workplace Dynamics also provides consulting services to improve employee engagement and organizational health. WorkplaceDynamics is a founding B Corporation member, a coalition of organizations that are leading a global movement to redefine success in business by offering a positive vision of a better way to do business.