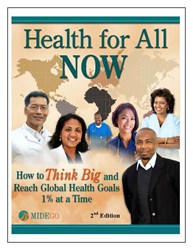 Fairfax, VA (PRWEB) November 26, 2013
Global Health Leader Dr. Elvira Beracochea of MIDEGO, Inc. will lead the next session of the 7-Day Health for All NOW online program on December 6th. The "How to Write a Book in a Weekend" online program will be presented on December 14th and 15th. Registration information for either program can be found at http://www.midego.com.
Participants in the Health for All NOW program will learn proven strategies to be effective global health leaders. The 7-DAY Health For All NOW (HFAN) Online Program includes all the basic skills and tools health professionals around the world need to start to rapidly succeed in their careers beyond their dreams and make an incredible impact in the lives of their patients, the communities they serve and their whole country. The program combines Dr. Elvira's innovative approach to global health improvement and powerful tools to fast track careers, along with practical support to meet each unique situation. Participants will have private access to one-on-one question and answer sessions and learn from her international professional experience as a global health leader of 29 years.
The HFAN program is for health professionals who want to fast track their careers. Even those professionals who already have a degree in public health or are already working in public health, in a health clinic, hospital or in a development project or organization, and are not satisfied with their results, have gotten the results they have been dreaming to achieve by completing the 7-Day HFAN online program. The program will help participants revise their career goals, manage their workload for ultimate success and reinvigorate their career with practical tools to take effective action and save more lives. The next session of the HFAN program will start on December 6, 2013.
The "Write a Book in a Weekend" online program will empower global health professionals to write to inspire the next generation of global health professionals by sharing what they know. Workshop participants will learn how to choose the topic, hone their "global health message", develop an outline and complete a draft of the book. Also, participants will prepare for production options such as hard copy and e-books. The "Write a Book in a Weekend" online program will be presented on December 14-15, 2013.
About Dr. Elvira
Dr. Elvira Beracochea is an international public health consultant and development coach. She coaches health workers to innovate and improve quality of life for their patients. She is the founder, President and CEO of MIDEGO, Inc.
About MIDEGO
Founded in 2005, MIDEGO is a well-established global health consulting company, specialized in professional and organizational effectiveness in the health sector. MIDEGO's mission is to help countries exceed the Millennium Development Goals, hence the name of the company. MIDEGO helps clients improve how they work and save more lives while advancing in their careers. MIDEGO also works with partners to create and implement effective and efficient organizational health development strategies that are led by empowered local leaders. MIDEGO's online training and coaching programs help health professionals realize their career mission by leading the kind of changes they know they need to bring about in their countries. Find out more at http://www.midego.com.