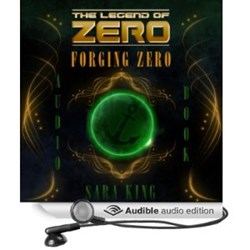 Intense more gripping than Enders Game!
(PRWEB) December 24, 2013
SciFi Publishing is pleased to announce its newest scifi audiobook, "Forging Zero (The Legend of ZERO)", written by bestselling author Sara King; now available on Amazon, Audible and iTunes. http://amzn.to/1cciSE8.
About The Legend of ZERO
The Legend of ZERO begins the epic journey of 14-year-old Joe Dobbs in a post-apocalyptic universe following a massive alien invasion of Earth. The oldest of the children drafted from humanity's devastated planet, Joe is impressed into service by the alien Congressional Ground Force—and becomes the unwitting centerpiece in a millennia-long alien struggle for independence. Once his training begins, one of the elusive and prophetic Trith appears to give Joe a spine chilling prophecy that the universe has been anticipating for millions of years: Joe will be the one to finally shatter the vast alien government known as Congress. And the Trith cannot lie.… But first Joe has to make it through bootcamp.
What People are Saying
5.0 out of 5 stars "Truly Unique, with the Quality of the greats, intense e more gripping than Enders Game!"
5.0 out of 5 stars "ZERO is character driven Science Fiction at its best"
5.0 out of 5 stars "Absolutely Stunning!"
5.0 out of 5 stars Exciting and engaging from page one.".
5.0 out of 5 stars "An Adventure Outer Space I Never Dreamed Of!"
5.0 out of 5 stars Amazing!"
5.0 out of 5 stars "If you like Haldeman, Scalzi, Orson Scott Card, or (dare I say it?) Heinlein...this is the next collection of science fiction you need to read."
About the Author
While Alaskan science fiction/fantasy/romance author Sara King is not six-foot-four with carrot-soup hair and eyes that'll make a wereverine stare, she does live the same crazy, socially questionable, off-the-grid lifestyle that she writes about in Alaskan Fire. She is fully acquainted with the quirks of outdoor plumbing, grizzly bears, questionable hygiene, private arsenals, and hypothermia, and has a vast and inspiration-rich wilderness right off her front doorstep. Find her on Facebook at http://www.facebook.com/kingfiction or email her at kingnovel(at)gmail(dot)com.
About Sci-Fi Publishing
Sci-Fi Publishing enables authors to bring their work to life, creating powerful audiobooks for Sci-Fi fans. We partner with authors from audiobook production to marketing so they can continue to focus on their passion, creating new and amazing worlds.
For more information about us and to discover other great scifi audiobooks, visit us at either http://www.scifi-publishing.com or http://www.scifi-audiobooks.com.