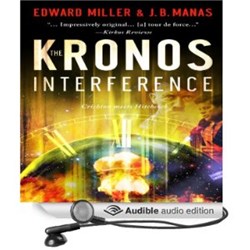 "Impressively original" and named "Best of 2012" by Kirkus Reviews
(PRWEB) December 26, 2013
SciFi Publishing is pleased to announce its newest scifi audiobook, "The Kronos Interference", written by bestselling authors Edward Miller and J.B. Manas is now available on Amazon, Audible and iTunes. http://amzn.to/1dtVsGS
About The Kronos Interference
How far would you go to save the world? When physicist Jacob Newman is pulled from his family, his job, and his whole life to investigate a strange vessel discovered at the bottom of the South Pacific, he finds evidence of time travel, along with implications that a judgment day against mankind is imminent. But it isn't until he cracks the time travel technology and uncovers a startling link to his own family history that he undertakes a dangerous mission back to 1924 to kill Adolf Hitler and undo a horrific episode of Earth's violent past. The results are catastrophic, and soon he discovers much darker forces working against him--forces he must overcome if he hopes to save humanity and see his family again.
Written in the vein of the late Michael Crichton, James Rollins, and similar authors who inject high concept plots with little-known historical facts and a touch of cutting-edge science, The Kronos Interference offers international intrigue, fast-paced action, and plenty of twists and turns. This new addition to the alternate history/technothriller genre received the coveted starred review from Kirkus Reviews, who called it "impressively original" and a "tour de force."
What People are Saying
"In this time-travel thriller, debut authors Miller and Manas spin a clever, original variation on a classic alternative history premise... The prose is unfussy, the pacing appropriately brisk, and the past and future sequences show the authors' admirable imaginative gifts... impressively original."-- Kirkus Reviews (starred review) - Named to Kirkus Reviews Best of 2012
"The Kronos Interference twists fact and fiction into a heady and provocative adventure about time travel and humanity." -- IndieReader (IndieReader Approved)
"The Kronos Interference is a strong addition to general fiction collections, highly recommended reading." -- Midwest Book Review
About the Authors
Edward Miller is the author of Cadets and co-author of The Kronos Interference. As chief editor for a sci-fi gaming website for over fifteen years, Edward Miller has crafted hundreds of stories designed to take readers to new places and immerse them in mind-bending situations. Edward resides in Willow Grove, Pennsylvania with his wife and family, along with their dog, Lady.
J. B. Manas is co-author of The Kronos Interference and a Philadelphia native whose world travels and passion for science, history, and the arts. He is currently working on a sequel to The Kronos Interference and a yet-to-be-named thriller. His bestselling non-fiction works, written as Jerry Manas, have received critical acclaim for being extensively researched, yet entertaining and accessible.
Feel free to visit the authors' blog at MillerandManas.wordpress.com or connect with them on Facebook at facebook.com/MillerandManas For more books from Pop Culture Zoo Press, visit popculturezoopress.com
About Sci-Fi Publishing
Sci-Fi Publishing enables authors to bring their work to life, creating powerful audiobooks for Sci-Fi fans. We partner with authors from audiobook production to marketing so they can continue to focus on their passion, creating new and amazing worlds.
For more information about us and to discover other great scifi audiobooks, visit us at either http://www.scifi-publishing.com or http://www.scifi-audiobooks.com.