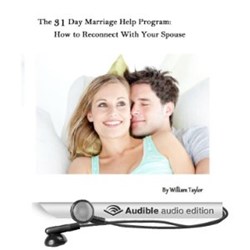 This program is a path toward reconnection.
(PRWEB) December 31, 2013
William Taylor is pleased to announce the Life Skills Relationship Audiobook, "The 31 Day Marriage Help Program: How to Reconnect with Your Spouse" Now Available on Amazon, iTunes and Audible http://bit.ly/1bOYhEi.
About The 31 Day Marriage Help Program
Many married couples search for a way to get back to where they once were. To rediscover the connection and the intimacy that seemed so natural early on in their relationship. Back to a place of feeling understood, accepted, wanted, connected and loved. This program is a path towards reconnection leading couples towards finding each other again. This program answers many questions, providing the listener with the tools to create a stronger and lasting marriage.
Questions That Are Answered Include:
-Why marriage seems easy at first
-How and why over time, our love for our partner can fade
-How why many couples often find themselves living parallel lives
-How to effectively communicate and manage conflict
-Why money is the number one source of conflict
-Why and how she needs to feel cherished daily
-Why feeling respected is more important to him than feeling loved
-How husbands and wives see the world differently, and its affect on marriage.
-Why and how she needs to feel understood
-What intimacy really means to him
-Why appreciation is so important in marriage
-How to genuinely give and receive forgiveness
-How to create passion supporting each other's dreams,
-How spiritual intimacy can strengthen a marriage
About the Author
Will nearly lost his own marriage over 10 years ago, and was driven to develop this resource to help others have stronger marriages. He holds three Graduate degrees and is married to his high school sweetheart who he fell in love with over 20 years ago. Together they raise seven wonderful children together. He enjoys developing programs designed to improve the quality of people's lives.