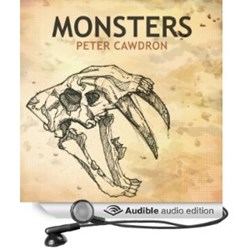 Recommended by Hugh Howey (Wool)
(PRWEB) January 10, 2014
SciFi Publishing is pleased to announce its newest scifi audiobook, "Monsters", written by bestselling author Peter Cawdron; now available on Amazon, Audible and iTunes. http://amzn.to/1crySkp
About Monsters
Monsters is a dystopian audiobook set against the backdrop of the collapse of civilization. The fallout from a passing comet contains a biological pathogen, not a virus or a living organism, just a collection of amino acids, but these cause animals to revert to the age of the mega-fauna, when monsters roamed Earth.
Bruce Dobson is a reader. With the fall of civilization, reading has become outlawed. Superstitions prevail, and readers are persecuted like the witches and wizards of old. Bruce and his son James seek to overturn the prejudices of their day and restore the scientific knowledge central to their survival, but monsters lurk in the dark.
What People are Saying
5.0 out of 5 stars "Recommended by Hugh Howey (Wool) and now by me too!"
5.0 out of 5 stars "Loved the premise of a pre-technology era post end of the world as we know it saga. One of my favorites now regarding the apocalypse."
5.0 out of 5 stars "Epic!"
5.0 out of 5 stars "This was a fantastic book. Such a insightful and intelligent read, and yet so entertaining."
5.0 out of 5 stars "Loved it."
5.0 out of 5 stars "I thoroughly enjoyed this. Takes you through a range of emotions as you follow the stories of the main characters."
About the Author
Peter is an Australian science fiction writer, specialising in hard science fiction. Hard science fiction is a misnomer as far as categories of literature go, as it sounds harsh and difficult to understand, but that is far from reality. Hard science fiction is simply plausible science fiction, fiction that is written in such a way as it conforms to the known laws of science, and that makes it more interesting, as there's no magic wand the protagonist can wave to get out of trouble. Peter's forays into hard science fiction could best be described as informative science fiction or enjoyable science fiction.
Peter is a fan of such classic science fiction writers as Philip K. Dick, Arthur C. Clarke and Michael Crichton and their influence on his style and story lines is readily apparent. You can follow Peter on Facebook or Twitter or find him posting some interesting tibit on his blog http://thinkingscifi.wordpress.com/
About Sci-Fi Publishing
Sci-Fi Publishing enables authors to bring their work to life, creating powerful audiobooks for Sci-Fi fans. We partner with authors from audiobook production to marketing so they can continue to focus on their passion, creating new and amazing worlds.
For more information about us and to discover other great scifi audiobooks, visit us at either http://www.scifi-publishing.com or http://www.scifi-audiobooks.com.