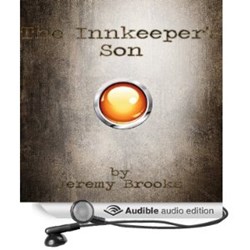 Intrigue, action, magic, romance, memorable characters, all woven into a great story.
(PRWEB) January 24, 2014
SciFi Publishing is pleased to announce its newest scifi audiobook, "The Innkeeper's Son (The Harven Legacy)" written by bestselling author Jeremy Brooks; now available on Amazon, Audible and iTunes. http://amzn.to/194hdjB
About The Innkeeper's Son
Before Desirmor came and broke the peace of the Alexidus monarchy with his army of dark beasts, Princess Harmony Alexidus spoke a prophecy of his rise and fall. He would destroy the warriors of the Harven Mountains. He would make the princess his eternally unwilling bride. Then he would wrap the world in a veil of darkness so tight, the people would forget that light ever existed.
But the Harmony Prophecy foretold that a scion of the Alexidus bloodline would find the last descendant of the fabled Harven warriors and guide him to a final clash with King Desirmor.
1000 years have passed. 1000 years of Desirmor's Nine Laws. 1000 years of indentured matrimony for Harmony Alexidus. The world has forgotten the prophecy.
Now, at an inn on a tropical island, Lady Enaya Relador has found the last Harven. But Siminus Kelmor is not a willing hero. He is the naïve son of an innkeeper, sheltered all of his life from the horrors indigenous to people on the mainland. And he is broken. Just as she has found him, Sim witnesses the brutal murder of his parents at the hands of King Desirmor's son, the feared Blood Lord. To mold him into the champion promised by the prophecy, Enaya will need to forge him as a blacksmith turns a scrap of iron into a sword. Because if he is to fulfill his destiny and put an end to the 1000 year reign of King Desirmor, Sim will need to become a perfectly crafted weapon. But can she make a weapon out of a man she is falling in love with?
What People are Saying
5.0 out of 5 stars "Intrigue,action,magic,romance,memorable characters,all woven into a great story."
5.0 out of 5 stars "Amazing, I loved it from beginning to end."
5.0 out of 5 stars "Best fantasy I've come across in a while."
5.0 out of 5 stars "Fantastic, Love, love, LOVE this!"
5.0 out of 5 stars "Excellent, outstanding in its genre!"
5.0 out of 5 stars "Captivating, Good cast of characters and lots of action and a little romance"
Ranked 68 in the Top 100 Fantasy category on Amazon
About the Author
Jeremy Brooks lives in East Wareham, MA with his wife and three children. After dabbling with several different genres of fiction, he finally turned his attention fully towards fantasy and The Harven Legacy was born. In his spare time, Jeremy cooks four star meals for his family and writes sappy songs about love and heartbreak on his acoustic guitar. Currently, he is hard at work on the second book of The Harven Legacy, The Blood Lord.
If you would like to tell him that you love his book,(or that you'd rather douse yourself in kerosene and light a match before reading another page) drop him a line on facebook, https://www.facebook.com/TheHarvenLegacy. Or visit his website, http://www.theharvenlegacy.com.
About Sci-Fi Publishing
Sci-Fi Publishing enables authors to bring their work to life, creating powerful audiobooks for Sci-Fi fans. We partner with authors from audiobook production to marketing so they can continue to focus on their passion, creating new and amazing worlds.
For more information about us and to discover other great scifi audiobooks, visit us at either http://www.scifi-publishing.com or http://www.scifi-audiobooks.com.