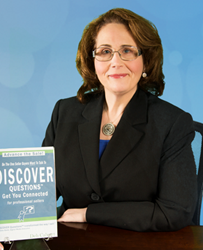 "Determining a strategic intention for your questions will eliminate many of the common concerns sellers have about asking questions."
San Jose, CA (PRWEB) January 26, 2014
Deb Calvert, founder of Morgan Hill, CA based People First Productivity Solutions and author of "DISCOVER Questions™ Get You Connected," will be interviewed during the January 31 broadcast of "Forget Patience, Let's Sell Something!" Calvert will talk with host Tye Maner, founder of the Tye Maner Group and world-renowned keynote speaker and thought leader.
After a 25-year career in sales and training, Calvert founded People First Productivity Solutions, dedicated to "building organizational strength by putting people first," in 2006. Since then, she has developed successful training programs for a wide variety of companies, founded the CONNECT! Community of social media, newsletters, webinars and more, and written "DISCOVER Questions™ Get You Connected for Professional Sellers," a finalist for Top Sales & Marketing Book of 2013.
During this broadcast, Maner will interview Calvert on her book and DISCOVER Questions™ technique, which identifies eight purposes for asking questions and instructs sellers on how to pinpoint those purposes to ask questions more effectively. Calvert will encourages listeners to be more bold in asking questions, teach them how to become question detectives and how to ask purposeful questions that advance the sale to a close.
"Forget Patience, Let's Sell Something!" is the radio show that shares the tricks, tips and techniques the most successful sales and business professionals use to make things happen. Maner's background in sales, humor and expertise make this a must listen for sales professionals, business owners, executives and anyone responsible for driving sales or influencing buying decisions.
Maner's background in sales and management spans more than 29 years. As the President of Tye Maner Group, a 17-year old corporation, Tye has a list of Fortune 500 clients, including 3M Company, McDonalds Corporation, State Farm Insurance, Travelocity, Verizon, Hewlett Packard, Office Max, Tech Data, National Association of Realtors, Colliers International, Merrill Lynch, United States Army, GE Capital, PricewaterhouseCoopers, LLP, and other major corporations and non-profits.
To tune in this Thursday at 5 pm, visit the show's webpage on VoiceAmerica Business. To purchase Calvert's book, visit Amazon.com.