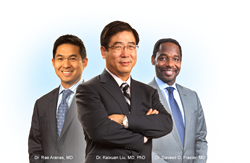 I was on pain medication, enduring epidural injections, nerve blocks, the whole gambit.
West Orange, NJ (PRWEB) March 16, 2014
What would the average American do if they could no longer sit without significant pain? So much that even the smallest activities that give so much pleasure, such as going out to dinner and a movie, caused too much pain to give any real enjoyment. There are many people out there that find watching the evening news while sitting on the sofa causes too much discomfort and it is no longer possible. Struggling with aches and pains is an inconvenience, but when those aches and pains interfere with your life, it is time to seek help. For Karen, this was her reality. Her back pain also resulted in an early retirement from a job she enjoyed for over 35 years. She prayed for a miracle, and it came in the form of a compassionate, understanding doctor and a minimally invasive spine surgery solution.
In a letter sent to Atlantic Spine center, Karen states, "I was on pain medication, enduring epidural injections, nerve blocks, the whole gambit". She suffered from several problems with her cervical, thoracic, and lumbar spine and was losing hope of ever enjoying a normal life again. After undergoing a diagnostic procedure called a discography, she was told she would never work again.
This is where the Atlantic Spine Center team stepped in. Although she was informed that her condition was too far advanced to undergo endoscopic spine surgery, another form of minimally invasive spinal fusion would be able to provide hope for her.
Karen underwent the minimally invasive surgery to fuse her L4 and L5 vertebrae together and returned home the very next day. Not only is Karen able to sit again, problems with her balanced that plagued her in the past are now getting much better.
With the remarkable recovery that Karen is having, there is a possibility that she may not have to face those fears of modifying every activity to avoid pain again. It is remarkable how the expertise of a surgeon can make a difference, not only is Karen feeling much better and beginning to enjoy the pleasures of life again, she actually convinced her family doctor to have surgery, which he had a week prior to the heartwarming letter she sent Atlantic Spine Center.
To view this and many other letters of appreciation Atlantic Spine Center have received, visit their testimonials page.
About Dr. Liu: Kaixuan Liu, M.D., Ph.D., is a renowned endoscopic spine surgeon and President of Atlantic Spine Center in New Jersey (http://www.atlanticspinecenter.com). Dr. Liu is certified by The American Board of Pain Medicine and is a member of The International Society for Advancement of Spine Surgery, The American Society of Interventional Pain Physicians (ASIPP), The American Academy of Pain Medicine (AAPM), The International Intradiscal Therapy Society (IITS), and The American Society of Anesthesiologists (ASA).