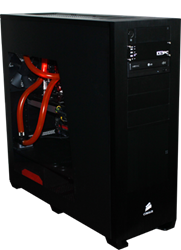 The goal with this new system was to break all previous speed records and provide a smooth 4K gaming experience for our customers.
Montreal, Canada (PRWEB) September 05, 2014
GamingPC.ca, a leader customized water cooled gaming computers, introduces The Beast, a water-cooled 8 core Intel's new 5960x clocked at 4.4Ghz, 64 gigs of GSkill DDR 4 memory and 4 NNidia Geforce Titan Black in Quad-SLI built for the high end gaming market. Other specs include a custom water cooling solution, a 1 terabyte SSD, 8 terabytes of additional storage, the new Asus X99 Deluxe motherboard.
"Our customers demand the best money can buy so that's what we aim to provide," says Sebastien Piche, owner of GamingPC Canada. "The goal with this new system was to break all previous speed records and provide a smooth 4K gaming experience for our customers."
GamingPC has built its reputation since 1998 by delivering highly overclocked gaming computers throughout North America and is currently the top supplier for watercooled gaming computers in Canada. You can find out more at GamingPC