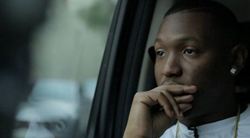 New York, NY (PRWEB) October 08, 2014
In partnership with vitaminwater®, JAY Z's Life+Times will present a twelve-part digital series that premiered on September 25, 2014. The relationship is part of the vitaminwater® quest to "hydrate the hustle" of consumers who work hard to make their dreams a reality.
Hustle, drive, and hard work are the key to the inspirational stories featured in "Where I'm From," an original docu-series that follows a select group of artists, stylists, and cultural visionaries as they travel on their own unique roads to success. From hometown visits to life on tour and in the design studio, each episode offers an inspiring look at an emerging and visionary talent you need to know about now.
"Where I'm From" presented by vitaminwater®, follows producer extraordinaire, Hit Boy, in its premiere episode (http://bit.ly/hit-boy) detailing his journey that started by making beats on FruityLoops to hustling past his opposition to become an inspiring super producer. Future episodes to be released this year will profile a variety of artists including music producer, DJ Mustard, Casey Veggies, L'il Internet, Jude Liana Kazar, Aviva Klein, SZA, Mack Wilds and Melody Ehsani.
JAY Z's Life+Times launched in late 2012, and has quickly established itself as one of the most sought after digital destinations, from both a consumer and brand perspective. It is now ranked in the top 1% of all YouTube Channels with more than 750K subscribers and more than a half billion views.
"JAY Z's Life+Times collaboration with iconic brands like vitaminwater® enable us to create bigger and better original programming," said Michael Yormark, President and Chief of Branding and Strategy, RocNation. "These types of content and sponsorship initiatives solidify RocNation's position as global powerhouse in both sports and entertainment."
The "Where I'm From" series will be hosted on JAY Z's Life+Times YouTube Channel (https://www.youtube.com/jayzslifeandtimes) and can also be found by following @lifeandtimes and @vitaminwater on Twitter.
About JAY Z's Life+Times
Conceived and curated by Shawn "JAY Z" Carter, and operated by Roc Nation and Iconic Entertainment, Inc., JAY Z's Life+Times is a testament to its name, an online destination that features in-depth music, sports and lifestyle pieces on an array of subjects. The first of its kind, it is a content-rich hub that seamlessly blends the interests of JAY Z with those of his fan base, and those whose interests lie in a similar lifestyle. JAY Z's Life+Times is an editorially digitally-driven platform that provides a succinct insider's perspective on the world's most influential people, places and products through both this original content channel (http://www.youtube.com/jayzslifeandtimes) and its companion website (http://lifeandtimes.com/)
About The Coca-Cola Company
The Coca-Cola Company (NYSE: KO) is the world's largest beverage company, refreshing consumers with more than 500 sparkling and still brands. Led by Coca-Cola, one of the world's most valuable and recognizable brands, our Company's portfolio features 17 billion-dollar brands including Diet Coke, Fanta, Sprite, Coca-Cola Zero, vitaminwater, POWERADE, Minute Maid, Simply, Georgia and Del Valle. Globally, we are the No. 1 provider of sparkling beverages, ready-to-drink coffees, and juices and juice drinks. Through the world's largest beverage distribution system, consumers in more than 200 countries enjoy our beverages at a rate of 1.9 billion servings a day. With an enduring commitment to building sustainable communities, our Company is focused on initiatives that reduce our environmental footprint, support active, healthy living, create a safe, inclusive work environment for our associates, and enhance the economic development of the communities where we operate. Together with our bottling partners, we rank among the world's top 10 private employers with more than 700,000 system associates. For more information, visit Coca-Cola Journey at http://www.coca-colacompany.com, follow us on Twitter at twitter.com/CocaColaCo, visit our blog, Coca-Cola Unbottled, at http://www.coca-colablog.com or find us on LinkedIn at http://www.linkedin.com/company/the-coca-cola-company.