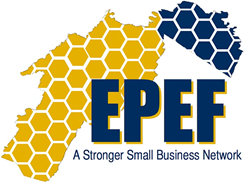 Organized by the economic development authorities in the Eastern Panhandle, the EPEF promotes the creation and growth of innovative new businesses.
Berkeley Springs, West Virginia (PRWEB) October 30, 2014
The Thurs., Nov. 6, 2014, Eastern Panhandle Entrepreneurs Forum (EPEF) will present "State of the Plate," a panel discussion featuring local food entrepreneurs, beginning at 5:30 p.m. at Panorama at the Peak Restaurant in Berkeley Springs.
The panelists are Rob Losey, Owner & National Sales and Distribution Manager, Bloomery Plantation and Distillery, Charles Town; WV; Elizabeth Spellman, Executive Director, West Virginia Food and Farm Coalition, Mount Hope, WV; and Lincoln Wilkins, owner and brewer, Blackwater Brewing Company, Davis, WV, and President, West Virginia Brewers Guild. The evening's hosts are Patti Miller and Leslie Hotaling, proprietors of Panorama at the Peak.
Entrepreneurs are often affected by policy and legislation on a local, state and federal level that impact the success of their businesses. With a nod to the approaching Thanksgiving holidays, the panel will focus on issues relevant to the local food and beverage movement and address how the community can help strengthen our local and regional food systems. Audience members will walk away with a better understanding of how to identify and influence legislation and policies that impact their businesses. This special evening will include a savory selection of hors d' oeuvres prepared by Panorama at the Peak using fresh, local ingredients.
The event, which is free and open to the public, begins at 5:30 p.m. with networking. The program begins at 6:30 p.m. Panorama at the Peak is located at 3299 Cacapon Rd., Berkeley Springs.
Organized by the economic development authorities in Jefferson, Berkeley and Morgan counties, the EPEF is a non-profit organization of individuals in the business and technical communities that promotes the creation and growth of innovative new businesses in the Eastern Panhandle. Programs are held the first Thursday of each month (except July), rotating between venues in the three counties. The organization is based on the premise that the future economic vitality of our region comes in large part from the emergence of new businesses through entrepreneurship. In order for this to occur, there must be an entrepreneurial culture, a pool of resources to draw from, and successful models to follow.
2014 Sponsors: Accurate Systems, American Public University System, ANW Enterprises, Around the Panhandle magazine, Bank of Charles Town, Blue Ridge CTC, BB&T, City National Bank, Comcast Business Division, Diehl Law Firm, HBS Tax and Small Business Experts, HMS Technologies, Howard Shockey & Sons, Inc., United Bank, Panorama at the Peak, Mid-Atlantic ProTel, Remax 1st Realty, Specialized Engineering, Triad Engineering, University of Charleston-Martinsburg, WV Manufacturer's Extension Partnership.
For more information call or click: epef(at)jcda(dot)net, 304-728-3255, http://www.jcda.net/entrepreneurs-forum/. For wheelchair accessibility, please call Panorama at the Peak prior to the event to make arrangements: 304-258-0050.