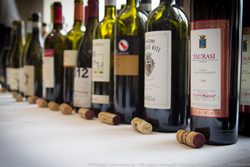 In Australia we have importers who wish to learn and consumers that wish to buy.
Melbourne, Australia (PRWEB) November 05, 2014
Veronafiere and the Italian Chamber of Commerce in Melbourne dropped the curtain last week on Vinitalia Down Under (26 – 27 October – Melbourne), a two-day boutique Italian wine tasting event that saw 40 Italian producers and local importers of premium, certified Italian wines present a total of over 344 labels to a cheerful and enthusiastic crowd of trade and journalists. The event also strongly leveraged education with a comprehensive series of masterclasses, including the very first edition in Australia of the Vinitaly International Academy with its three Executive Wine Seminars presented by famous wine writer and expert, Doctor Ian D'Agata.
Luca Bottallo, Secretary General of the Italian Chamber of Commerce, expressed his satisfaction about the outcome of the event and underlined the importance of education, especially in a receptive market such as the Australian one: "The seminars of Vinitaly International Academy have been extremely useful because they have offered a different point of view: it's not only about drinking wine but also about understanding it. You cannot limit yourself to pushing a product: in order to sell a bottle of wine, it is necessary to make sure that customers also understand its added value. This is a very important aspect of VIA and we were very fortunate to have Ian D'Agata here. As the Italian Chamber of Commerce in Melbourne we want educate and create business and to make Italian wine the true protagonist. In Australia we have importers who wish to learn and consumers that wish to buy".
The more than 350 visitors present at the event were mostly importers and members of the HORECA channel counting important names of the city's top Italian and international restaurants. Most of them bore Italian surnames standing as representatives of the 4,6% share of the Australian population with Italian origins, that has inevitably had a positive bearing on the increase of Italian wine consumption in the Country.
Caterina Borsato has owned her own business in Melbourne for the past 20 years and attended all three VIA Seminars: "I came along wanting to take back something to my own business and Ian D'Agata was just amazing because he was a great source of knowledge. In Australia we all know about Chianti and Barolos, but what Ian explained was why some Barolos can be drunk early and why some cannot. When you are talking to your customers you might think that a Barolo needs to be big and powerful but that is not necessarily the case, it also depends on the sub regions it comes from. That was really really interesting. I m going to be able to go back to my customers and tell them a story and promote Italian wines."
"There has certainly been a shift in the market whereby originally we would always be selling the usual Cabernet and Shiraz" Caterina goes on to explain. "Now customers are requesting Italian wines made out of certain varietals. This shows that people are travelling more or Italy, perhaps, is getting its message out there better".
The tastes of fun and beer-loving Australians appear to have been really undergoing a great change in the past years, driven by concurring factors including a new interest towards more sophisticated alcoholic beverages backed up by a high standard of living and a natural propensity towards trying something new.
"People in Australia are now starting to enjoy wine a lot more compared to the past when they used to drink especially beer. Women in particular" explains Andrea Morazzoni, owner of a small importing company named Navigli and with a declared passion for grappa. "Another important factor is the attraction Australians feel for all that is Italian: they travel to Italy and when they come back here they want to continue to enjoy the products they tasted there. I think it is a good moment to sell Italian wine in this country. "
All three Executive Wine Seminars attracted a lot of attention with many attendees from the first day's session coming back for more on the 27th of October not wanting to miss the opportunity to get to know dozens of autochthonous varieties from all over Italy.
During the first day's seminar, "Italy's best wines from the country's best producers", attendees expressed a preference for Donnafugata's "Ben Rye" Passito di Pantelleria, Passopisciaro's Etna Rosso and the "Vecchie Viti" Chianti Rufina Castello di Nipozzano of Frescobaldi winery that respectively took first, second and third place.
Barolo 2010 Brunate of Ceretto winery, Barolo 2010 Bricco Ambrogio of Paolo Scavino and Barolo 2010 Ravera of Elvio Cogno were considered to be the best during the first seminar on day two, while Ronco del Gelso's Toc Bas, Livio Felluga's Abbazia di Rosazzo and the Fiuliano of Mario Schiopetto were chosen by most attendees during the last Seminar dedicated to the white wines of the Friurli Venezia Giulia region.
Significantly, though, all wines at the tastings had members of the audience voting for them.
"I was impressed by the overall level of wine knowledge amongst the attendees of the seminars" concludes Ian D'Agata. "Clearly they are not as strong on Italian wines and this is why the work done by VIA is essential on behalf of our many great Italian wine estates. In this light it was good to see that the wines of both famous and up and coming wineries were equally liked."
The event was part of the project "Italian Wine Meets Australia" - Extraordinary Campaign for the Promotion of Made in Italy, and has been financed by the Italian Ministry of Economic Development.
About:
Veronafiere is the leading organizer of trade shows in Italy including Vinitaly (http://www.vinitaly.com), the largest wine event in the world. The 48th edition of Vinitaly counted some 155,000 visitors (+6%) in four days of event, of which 56.000 were international attendees representing 36% of the total. On 100.000 square meters, 4.000 exhibitors welcomed trade professionals, media and producers alike. The next instalment of the fair will take place on 22 – 25 March 2015. The premier event to Vinitaly, OperaWine (http://www.vinitalyinternational.com) "Finest Italian Wines: 100 Great Producers," will unite international wine professionals on March 21st 2015 in the heart of Verona, offering them the unique opportunity to discover and taste the 100 best Italian wines, as selected by Wine Spectator. In 1998 Veronafiere also created Vinitaly International to develop a global platform for the promotion of Italian wine producers in foreign markets such as Russia, China, USA and Hong Kong.
The Italian Chamber of Commerce and Industry (ICCI), Melbourne, is a professional business consultancy that fosters and facilitates commercial exchange between Italy and Australia, for many years connecting the Australian wine trade with Italian producers and supporting the internationalisation of the latter through dedicated trade missions, events and the research and identification of potential local partners. ICCI is the Australian delegate of Veronafiere.
# # #