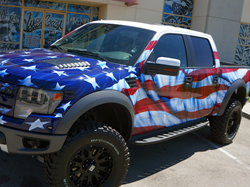 The creation of The Patriot was a tremendous privilege for us.
Akron, OH (PRWEB) May 11, 2015
The MobilityWorks Foundation is once again auctioning "The Patriot", a one-of-a-kind 2014 Ford F-150 SVT Raptor created by the kings of automotive customization, West Coast Customs. Thanks to an anonymous donor at the Mecum auction held in September in Dallas, TX, The Patriot was donated back to the foundation following a winning bid of $250,000. Since then, it has been on display throughout the country at a variety of special events and parades honoring our nation's veterans. The custom vehicle will be auctioned on Saturday, May 16th with proceeds from the sale going to benefit disabled veterans.
The transformed 2014 Ford Raptor, aptly named, "The Patriot," features a breathtaking American flag custom paint job, courtesy of West Coast Customs and Ryan Ryno Templeton. This automotive masterpiece boasts a handmade custom grille, interior embroidery representing each branch of the United States military and an onboard computer provided by Bully Dog. West Coast Customs also installed a BDS four inch lift, which gives the Raptor a higher profile, making it perfect for going off-road.
"West Coast Customs has always supported our veterans, and we are proud to be part of such an important cause," said Alex Anderson, operations manager, West Coast Customs. "Being tasked with the creation of The Patriot was a tremendous privilege for us. We took the challenge very seriously and put forth our best effort to properly honor members of our military."
For more information on West Coast Customs, visit: http://www.westcoastcustoms.com.
In addition to West Cost Customs, several other sponsors also made this custom build possible, including: MobilityWorks; BraunAbility; Magnaflow; Bully Dog; LM Tire & Wheel; Indianapolis Dent Company; and BDS Suspension. Since the first auction in September, an additional enhancement was made by BAT Industry. A custom mullet was fabricated by BAT and then painted by Ryan Ryno Templeton to match the original theme of the vehicle. For more information on BAT Industry, go to http://www.batindustry.com.
Proceeds from the sale of The Patriot will go to The MobilityWorks Foundation to support their efforts in helping deserving veterans and local organizations that provide assistance our wounded heroes with wheelchair-accessible transportation, training, housing and other services. There is no reserve on this auction, designated as lot #S10.
The Mecum Indianapolis 2000 Vehicle Auction will air live on NBCSN May 14-17 at various times. Check your cable provider listings for specific air times.