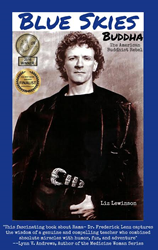 Some recount seeing light flow from his hands, others saw him levitate, and yet others tell of his practical nature.
San Antonio, TX (PRWEB) May 25, 2016
Mystic Buddha Publishing House today announced that its #1 Kindle best-seller, "Blue Skies Buddha," the biography of Rama – Dr. Frederick Lenz, was named a winner of the 2016 Eric Hoffer Award for Excellence in Independent Publishing in the Spiritual category. The biography describes an American teacher through the eyes of his students, family and colleagues and presents the basics of Buddhism.
According to Publisher Roger Cantu, "This is the second literary award received by 'Blue Skies Buddha,' a book that deserves full recognition." "Blue Skies Buddha" was selected as a Finalist by USA Book News for Best Books of 2015 in both the Biography and Spirituality: General categories. The second edition of the book in 2016 made it eligible for the Hoffer, which it won in the Spiritual category.
Said Cantu, "The appeal of 'Blue Skies Buddha' is nicely summarized in The U.S. Review of Books: 'A biography of the spiritual leader, Rama, this book details the life and teachings of a man who not only brought his followers to a keener awareness of mysticism, but also urged them to take an active role in the contemporary world, urging participation in activities such as digital software development and even presidential politics. The book provides varied stories from students, family members and associates. Some recount seeing light flow from his hands, others saw him levitate, and yet others tell of his practical nature. Rama, whose legal name was Frederick Phillip Lenz, cautioned his students not to view him as a teacher, but to see everything in life as a teacher.''"
Author Liz Lewinson states, "I am honored to be a recipient of the Eric Hoffer Award and hope it will inspire many people to sample the book. I wrote the book for people who never encountered a teacher like Rama but who would enjoy and benefit from learning what and how he taught. It was a great adventure to encounter him."
The Eric Hoffer Award honors the memory of the great American philosopher Eric Hoffer by highlighting salient writing, as well as the independent spirit of small publishers. Since its inception, the Hoffer has become one of the largest international book awards for small, academic and independent presses.
"Blue Skies Buddha" is available in print and ebook formats on Amazon, Barnes & Noble, and bookstores worldwide. For further information on Blue Skies Buddha, contact info(at)mysticbuddha(dot)com or visit http://www.blueskiesbuddha.com.