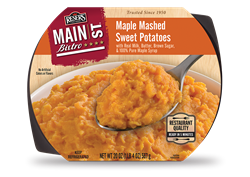 Consumers are enjoying sweet potatoes outside of the holiday season
Beaverton Oregon (PRWEB) September 15, 2016
Reser's introduces its new "Main St. Bistro Maple Mashed Sweet Potatoes" refrigerated side dish. This delicious menu-inspired recipe contains no artificial colors or flavors and blends fresh sweet potatoes, real butter, brown sugar, and 100 percent pure maple syrup.
Beyond Thanksgiving: Sweet Potato Consumption Rises
"Consumers are enjoying sweet potatoes outside of the holiday season and we're seeing sweet potato dishes pop up on menus across the country," States John McCarthy, category manager. "Since people are eating sweet potatoes more often, and throughout the year, we expect strong year-round growth."
According to a report the Agricultural Marketing Resource Center (AgMRC) prepared for the USDA, "Sweet potatoes have become more popular in the U.S. in recent years with consumption increasing nearly 80 percent between 2000 and 2014, reaching 7.5 pounds per capita. Growing consumer demand for sweet potatoes may be due to the promotion of the tuber's health benefits. Sweet potatoes are higher in beta carotene than many other vegetables and are a source of potassium, fiber, and vitamins A and C." (USDA ARS 2012)
About Main St. Bistro Maple Mashed Sweet Potatoes
This new year-round refrigerated side dish will be available starting September 19th. With made from scratch taste and only real ingredients, this appetizing dish will help elevate both everyday and holiday meals. The suggested retail price on each 20oz package is $3.79 to $3.99. For more information, contact 1-800-333-6431 or visit http://www.resers.com.
Reser's Fine Foods
Family owned and operated, Reser's is the leading provider of fresh refrigerated deli salads, side dishes and prepared foods. For more than 65 years, Reser's has been making fun times easy and affordable for every family. Reser's famous deli salads are a family favorite at the race track, picnics, BBQs and tailgates. Founded in 1950, the company remains committed to providing delicious refrigerated foods for the supermarket and food service industries. Reser's operates 18 facilities in the United States and Mexico and employs more than 4,000 employees in the United States, Mexico and Canada. Visit http://www.resers.com