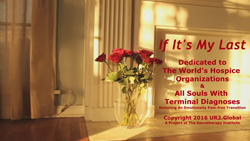 "It is hoped that the song "If It's My Last" will help each soul "let go", feeling a sense of contentment and even joy for a life well-lived or lived as well as could be lived, trusting that one's best was in fact good enough! Amelia Kemp, Ph.D., LMHC
Tallahassee, Florida (PRWEB) October 08, 2016
UR2.Global Co-Founder and President - Amelia Kemp, Ph.D., LMHC, has written and performs a song titled "If It's My Last", within a music video dedicated to Hospice Centers Worldwide and to anyone with terminal diagnoses as a music tribute for World Hospice and Palliative Care Alliance Day 2016 which is being celebrated today - October 8, 2016. She states that UR2.Global is proud to be one of two organizations within the United States that has joined the WHPCA in this biannual celebration along with eighty other countries. This year's WHPCA theme is "living and dying in pain doesn't have to happen." A theme that Dr. Kemp agrees with being a licensed psychotherapist and singer/songwriter that performs under the stage name: Dr. K's Music Therapy, stating that the song and music video was created to ease the emotional and psychological pain that may be experienced during the transitioning process due to regrets and perceived unfinished business. Therapeutically, she believes that "how a person feels about themselves during the transition process can affect their self-esteem and is just as significant as it was throughout their lives."
Joining The World Hospice and Palliative Care Alliance this year in its goal to soothe the pain of the world's terminally diagnosed has been an honor for our organization states Lamarr Kemp, Sr., MBA - Vice President of UR2.Global, stating that the mission of UR2.Global is a psycho-spiritual arts project of The Sacretherapy Institute (pronounced sacred-therapy with a silent "d") which is to do all it can to uplift the overall self-esteem of humanity which begins when a soul enters the world until they transition. Dr. Kemp agrees believing "each soul came forth into the physical world with their self-worth and self-esteem intact, and can also return to the Source with that same appreciation for oneself, trusting that they have done their best and whatever sacred agreements they had with their loved ones has been fulfilled."
Having treated people with chronic and terminal illnesses as well as bereavement as a psychotherapist for the past twenty years, she observed that once a person is past the initial stages of transitioning where anger and negotiating for more time is over, many people are still conflicted about whether their best was enough, and still want to reconcile relationships that went sour before they leave. But many don't know how or fear its too late to ask for forgiveness, or to be forgiven. As such, she states that for believers in a higher power, there is often mixed energy comprised of anxiety and hope, where on the one hand they hope to be welcomed by the Creator and on the other hand there is dread that they may not. And this uncertainty often prolongs the transitioning process since the person is attempting to release the resistance and align the split energy. And some wait until they are on their dying bed before they feel free enough to make peace with their lives and loved ones, finally able to release the painful matter of the past. So the hope for the music video and song: "If It's My Last" is also to facilitate bringing the closure that many seek and to reassure them that all is well, and, that they will be received by their maker! Dr. Kemp is also a metaphysician and ordained and believes that as the spirit comes in and out of bodies we can embrace it with ease, dignity and grace regardless of our mistakes, because she believes we are all much more than our mistakes and serve an unconditional God.
The reason the song is dedicated to the Hospices in addition to anyone with a terminal diagnoses is because many people transition at home and either way, as Mother Teresa who founded the Kalighat Hospice once shared "there is no pain worse than feeling unloved and alone". As such, Dr. Kemp envisioned the song and music video being played at facilities or in the private homes of those terminally diagnosed to assist in the literal transitioning process. Hoping the song reinforces that its okay to release the body-temple in an atmosphere of love and gratitude where one can "let go", feeling a sense of contentment and even joy for a life well-lived or lived as well as could be lived, trusting that one's best was in fact good enough!
The song and music video was funded by The Sacretherapy Institute - a 501 C3 organization, and was arranged and produced by renown composer and multi-instrumentalist Premik Russell Tubbs who contributes a saxophone solo during the song. All Hospices may download the music video free of charge to use in their facilities by simply sending an email requesting the video to UR2.Global@gmail.com. Any individual wanting to use the video for a terminally ill family member may watch the video free of charge on UR2.Global 24/7. Those just wanting to enjoy the song without the music video may download and purchase the song on Bandcamp via http://www.DrK-MusicTherapy-bandcamp.com. The music video is currently available to enjoy free on UR2.Global by clicking here: If It's My Last.
UR2.Global is a site that showcases the ARTS to promote self-esteem, and currently features over 75 music, visual arts, and literary arts including poetry and spoken word entries that uplifts humanity by various talented artists around the world. UR2.Global has liaisons on five continents and began as an ARTS showcase as a result of Dr. K's Music Therapy since as a psychotherapist she attempts to offer psychotherapy and therapeutic healing with music and believing music holds a universal language that can help mankind realign with our most sacred selves where that higher opinion of who we are can be accessed. She also uses psychodrama in the healing process and therefore believed all of the arts could be prescriptive. For more information or to submit your own art-form to UR2.Global and help uplift mankind please visit http://www.UR2.Global and click "submissions" or "about us".