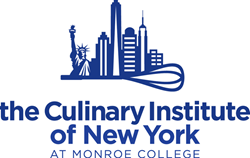 Fifty students from around the country were invited to participate in the culinary competition, with another 12 selected to compete in the pastry category.
New Rochelle, NY (PRWEB) March 07, 2017
Monroe College, a national leader in educating urban and international students, today announced that its ninth annual "America's Best High School Chef" (ABHSC) competition will be held on Saturday, March 11. The national competition for high school seniors intending to pursue a college degree in the culinary or baking and pastry arts will take place at the College's Culinary Institute of New York facility in New Rochelle, NY.
Participants were selected to compete in the ABHSC event from online applications submitted earlier this year. Fifty students from around the country were invited to participate in the culinary competition, with another 12 selected to compete in the pastry category. The winners will be awarded full academic scholarships for the Associate Degree Program in Culinary Arts or the Associate Degree Program in Baking and Pastry at Monroe College, as well as for the Bachelor's Degree in Hospitality Management should they opt to continue their studies.
"We look forward to welcoming dozens of America's top high school chefs this weekend to compete in our annual 'America's Best High School Chef' competition, which provides these talented seniors a terrific opportunity to showcase their technical skills, culinary passion, and plating finesse while competing for scholarships to make their culinary dreams a reality," said Frank Costantino EdD CEC CCE AAC, Dean of Monroe College's School of Hospitality Management and the Culinary Arts. "We were very impressed by the caliber of applicants this year, and are excited to see what they can do in our kitchens."
In addition to students from New York area high schools, participants will include students from New Jersey, Pennsylvania, and Maryland. Most are expected to arrive on campus on Friday to begin preparing for the competition that starts at 7:30 AM on Saturday.
The culinary competition includes a series of three rounds of competition comprising basic skills, salad basket, and mystery basket challenges. All students participating in the ABHSC culinary competition will be required to compete in the Basic Skills Round. The 16 students with the highest overall score in that round will move on to the semi-final Salad Basket Round. The top eight students from that round will progress to the Mystery Basket Round, which will require them to prepare and plate an elegant dish of their choosing created from a select set of ingredients. The winner of that round will be awarded the "America's Best High School Chef" title and the academic scholarship. Additional scholarship funds will be awarded to those placing second and third in the competition.
The pastry competition requires the competitors to prepare their signature upscale dessert within a 90-minute timeframe. It must include five key components: the main item, a sauce, a cookie or crisp item, chocolate and fruit.
Julie Velasquez from Passaic County Technical Institute in New Jersey and Ameia Peters from Food and Finance High School in New York City, respectively the winners in the culinary and pasty competitions last year, are currently pursuing their professional education at the Culinary Institute of New York at Monroe College. Victoria Helwig and Keiry Palma, winners in 2015's "America's Best High School Chef" Competition, are on track to receive their Associate degrees this year.
The Culinary Institute of New York at Monroe College is an award-winning, nationally recognized culinary institute that provides students with a combination of theoretical education and hands-on experience in culinary arts, pastry arts, and hospitality management. With facilities designed to simulate the kitchens of restaurants, hotels, and large production operations, students receive personal instruction and mentorship from a faculty of ACF-certified chefs and experienced industry professionals who are committed to their success. CINY has been ranked one of the top 10 culinary schools in the Northeastern U.S. and in the top 20 nationwide.
Since 2009, the program has produced award-winning culinary teams, students, faculty and staff, as well as a critically acclaimed student-run restaurant, The Dining Lab, which was deemed a "training ground for students" by The Wall Street Journal and "the little kitchen that could" by The New York Times. Its culinary competition team was named New York State Champions for two years running and has won more than 680 ACF medals. More information, including admissions criteria, is available online.
ABOUT MONROE COLLEGE
Founded in 1933, New York-based Monroe College is a nationally ranked private institution of higher learning with a student-centric learning approach that prioritizes hands-on academic experiences, practical and relevant academic programs, flexible learning schedules, best-in-class instructional technologies, and committed and engaged faculty to ensure that students are well positioned for career success upon graduation. Monroe is among the leading higher education institutions in the country for graduating minority students.
Monroe College offers Certificate, Associate, Bachelor's, and Master's degree programs. It has campuses in the Bronx, New Rochelle, as well as in the Caribbean nation of St. Lucia, with programs offered through its Schools of Criminal Justice, Information Technology, Nursing, Education, Business & Accounting, Hospitality Management and Culinary Arts, and Allied Health, as well as through its liberal arts and continuing education programs, and its King Graduate School. For more information and admissions criteria, please visit http://www.monroecollege.ed u.
# # #