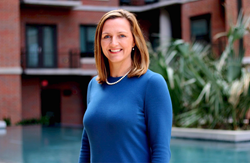 Dallas, Texas (PRWEB) April 11, 2017
Gables Residential Area Vice President of Investments, Katy Slade, has been recognized among her peers in the '40 Under 40' class of 2017, sponsored by the Dallas Business Journal. The Dallas Business Journal's '40 Under 40' Awards celebrate the people that the North Texas community should watch as the leaders, executives, and influencers in the Dallas-Fort Worth business community and beyond. These individuals, selected from over 500 nominations, make a difference in the community while also excelling in their workplaces.
Katy joined Gables Residential 10 years ago and was recently promoted to Area Vice President of Investments. In her role with Gables and as the current CEO and Chairman of the Board of Uptown's public improvement district, Uptown Dallas, Inc., Katy has proven to be an urban visionary helping shape Dallas. Katy, a Dallas native, spends countless hours working to build relationships and proactively make her hometown more vibrant, including her involvement on the boards of Uptown Dallas, McKinney Avenue Transit Authority, Preservation Dallas, and The Real Estate Council.
Most recently, Katy and the Gables team developed Gables McKinney Ave, which brought a Whole Foods Market to anchor the high-end community of 239 residences in Uptown Dallas. This project was awarded the Outstanding Multifamily Development Award by D Magazine in 2015; was nominated as a finalist for the Best Mixed Use Development Award by the Dallas Business Journal in 2016; and recently received the Preservation Dallas Achievement Award.
In addition, Katy's commitment to live, work, and play developments is demonstrated in Gables Water Street, a new transit-oriented development in Las Colinas. The community, set to open in the fall of 2017, will boast 316 residential units and 60,000 square feet of retail showcasing best in class regional restaurants such as Café Herrera, Olivella's, and Main Street Bistro. It will also include a new transit station that will connect to the DART light rail and then to the DFW airport. She also worked closely with neighbors and Dallas City Hall to re-zone Gables Turtle Creek City Place development across from the West Village development to create a form based zoning district. This is the first Uptown project to pioneer the City's form based zoning code, as well as workforce housing, which sets a standard for dense development in transit corridors such as this one.
"I am privileged and humbled to have been nominated to be part of the 2017 '40 under 40' by the Dallas Business Journal," stated Katy Slade. "We are fortunate to have an amazing group of young professionals in the Metroplex with so much talent and commitment to Dallas. Gables has afforded me the opportunity to excel at my job, develop as a professional, and participate in my community, all as part of a talented professional team. It is amazing how we have been able to positively influence urban living in Dallas over the last 20 years. I look forward to continued success in the Dallas/Ft. Worth market."
Katy and the Gables team are responsible for more than 2000 apartment homes and 600,000 square feet of retail in mixed-use space in nearly a dozen communities, both existing and underway. She is a contributing member to the community-at-large and passionate about her work creating cohesiveness within a neighborhood and the surrounding area, while ensuring the delivery of a first-in-class product.
About Gables Residential
Gables Residential is an award-winning, vertically integrated, real estate company and privately held REIT specializing in the development, construction, ownership, acquisition, financing and management of multifamily and mixed-use communities. Gables Residential owns, develops and manages communities in high-growth U.S. markets such as Atlanta, Austin, Boston, Dallas, Denver, Houston, South Florida, Southern California and metropolitan Washington, D.C. Gables also provides third party management services in the New York, Baltimore, Frederick, Tampa, Phoenix, Seattle, Charlotte, Central and North Florida markets.
Gables manages over 31,000 apartment homes and approximately 550,000 square feet of retail space and has received national recognition for excellence in development, construction, management, sales, marketing, learning and development, benefits and corporate accommodations. These achievements reflect the impact of our experienced and dedicated team members, our superior knowledge of the markets served, and our expertise in development and management.