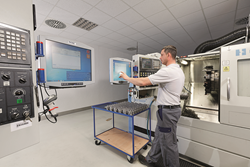 Charlotte, NC (PRWEB) August 02, 2017
From the C12 right through to the C21, all noax Industrial PCs in the Compact Series are developed and produced to the same quality standard. In terms of their size and features, however, the various IPCs are all unique. This makes them suitable for use in a particularly wide variety of environments including metal and plastic manufacturing, agriculture and forestry, industrial vehicles, warehouse logistics, and even quality control. The functions that they perform are as diverse as they are specific to each customer – they support process visualization, record machine and operating data, and even control production processes. The IPC C21 is just one module that both supplements and rounds off these requirements.
Just like its "smaller" counterparts, the 21.5" display on the C21 IPC offers the same rugged, reliable features that have come to be expected from noax. Thanks to its large surface area, the high-definition screen allows the information displayed to be recognized quickly to speed up workflow operations. The ability to visualize important information in a production environment helps considerably when it comes to increasing productivity and accelerating processes. The higher resolution format is particularly well-suited to applications where display quality is essential, for example in quality control testing for the automobile industry.
All noax IPCs have several interfaces standard equipment to connect various peripherals. The C21 offers additional slots for plug-in cards or additional ports for PCI, PCIe and mini-PCIe. In addition, there is a secured USB port on the front of the Industrial PC for uses such as transferring software updates.The administrator can use the noax nSMART tool to ensure that only authorized persons can use this USB port. In order to have current data available any time under different circumstances, the new C21 offers two ethernet ports, integrated WLAN antennas, integrated Bluetooth, and mobile wireless capability. In addition, freely programmable function keys are available to start frequently used functions or switch between applications quickly.
Harsh conditions allow noax IPCs to demonstrate their durability. The rugged design of the C21 makes it ideally equipped to handle these types of environment. When it comes to reliability and performance, the combination of the large high-definition display and the ability to function under extreme conditions makes the noax C21 the optimal IPC.
For more information, please visit: http://www.noax.com