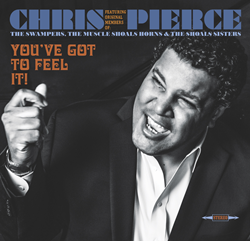 "…the tune that brought down the house was 'We Can Always Come Back to This,' the Stax-style soul number from 'This Is Us' performed by singer-guitarist Chris Pierce and composer Khosla. It earned the evening's only standing ovation." - Variety
Los Angeles, CA (PRWEB) August 03, 2017
Consummate Soul Man Chris Pierce is set to release the ultimate 60's/Muscle Shoals vintage album "You've Got To Feel It!" September 15 on Calabama Recordings. The 12 re-imagined, iconic soul covers were recorded in soul music's "promised land" — Muscle Shoals, Alabama — with the legendary Swampers, Muscle Shoals Horns and Shoals Sisters, who defined the classic R&B soul sound in its 60's and 70's heyday.
The new "You've Got To Feel It!" collection is driven by the fresh perspectives and imagination Pierce brings to a grooving and emotionally searing set list of classics that are an R&B lover's dream, including Solomon Burke's "Cry To Me", Clarence Carter's "Slip Away," James Carr's "The Dark End of the Street," Arthur Alexander's "You Better Move On," Jimmy Cliff's "Many Rivers to Cross," Al Green's "I'm A Ram,", Otis Redding's "That's How Strong My Love Is," Marvin Gaye's "Trouble Man," and Stevie Wonder's "You Haven't Done Nothin,'" among others.
The first single, Wilson Pickett's classic "Don't Fight It," features background vocals by Grateful Dead member Donna Jean Godchaux, and provides the key inspirational lyric that became the album's title and muse. The sessions also feature some of the original members of The Muscle Shoals Rhythm Section aka The Swampers, the name Leon Russell gave the respected Musicians Hall Of Famers, who were immortalized in the Lynyrd Skynyrd classic "Sweet Home Alabama." The impetus for the sessions came through veteran musician/producer Dave Resnik and co/producer/organist Steve Bassett. Resnik and Bassett knew some of the artists depicted in the award-winning 2013 Muscle Shoals documentary, chronicling its history and the artists who recorded there.
Pierce, whose work has been compared to that of elder tribesmen Bill Withers, Van Morrison, Otis Redding, and Jimmy Cliff, found a personal rebirth in service to the songs that have inspired his own prolific 20 year recording career as a soul and blues singer/songwriter.
Says Pierce: "Being down in Muscle Shoals with those legendary folks, observing their intuitive, old school spontaneity was incredible. They just came in, wrote down the charts, sat down, reached in and pulled all that soul out. Seeing that demonstration of heart and emotion in its purest form was an education beyond education. It was pure fellowship."
The highly respected musician, who has built a loyal national and international following, co-wrote the hit song "We Can Always Come Back to This," which was prominently featured on the #1 U.S. Primetime NBC TV hit show "This Is Us." The Stax-style number was recently performed by Pierce and co-writer Siddhartha Khosla at the Television Academy's Words + Music event, receiving the only standing ovation and bringing the house down. The song charted at #1 on the Billboard Blues Chart, as well as in the Top 20 on the Billboard Rock and R&B charts.
Pierce's success with "This is Us" caps a rich history of song placements in films like the Oscar winning "Crash", Soul Men, TV's "Brothers and Sisters," "True Blood," "In Plain Sight," "Eli Stone," "What About Brian," "Lincoln Heights," "North Shore," "Half and Half" and "Army Wives." His single, "Are You Beautiful," was featured in a national Banana Republic ad campaign.
In addition to headlining tours, Pierce has either performed on stage with or opened worldwide tours for Seal, B.B. King, Al Green, Cold War Kids, Toots and the Maytals, Aaron Neville, Jon Butcher, Colbie Caillat, Beth Hart, Raul Midon, Sonia Dada, Jamie Cullum among others.
TRACK LISTING - "YOU'VE GOT TO FEEL IT!"
Cry To Me
Slip Away
The Dark End Of The Street
You Better Move On
Don't Fight It
I'm A Ram
Trouble Man
Stop
That's How Strong My Love Is
Is It Something You've Got
You Haven't Done Nothin'
Many Rivers To Cross
(*Review copies available upon request)
CONTACT:
Karen Sundell
310/854-8167
ksundell(at)rogersandcowan.com
Lori Lousararian-Hakola
310/854-8104
llousararian(at)rogersandcowan.com